The Puravida SWA Wave Series reached its climactic conclusion this weekend, in the storm whipped waters of South Wales. Students from far and wide converged on Cardiff to compete for a place on the overall podium, strutting their stuff both in the waves and in the bar.
You can read the full write up on the windsurf.co.uk site.
Series positions
| | |
| --- | --- |
| 1 | Louis Morris (Bristol/Severne/Starboard) |
| 2 | Sara Kellett (UWE/Severne/Starboard) |
| 3 | Reuben Lansley (Swansea) |
| 4 | George Norcott (Plymouth) |
| 5 | Tom Pidden (Nottingham/Simmer/Puravida) |
| 6 | Arthur Fox (Cardiff) |
| =7 | Ben Bulson (Bristol) |
| =7 | Shaun Ashmore (Manchester) |
| =12 | Alex Parker (Cardiff) |
| =12 | Natalia Orgonova (Birmingham) |
| =12 | Alex Page (Sheffield) |
| =12 | Laura Bulson (Sheffield) |
| =12 | Matt Duffin (Bristol) |
| =12 | Luke Leckie (Bristol) |
| =12 | Luis Coy (Sheffield) |
| =12 | Alice Lyons (Bristol) |
| =12 | Thomas Francis (Cardiff) |
To Teach, to Inspire, to Instruct. 
Throughout all of our windsurfing journeys, countless factors have changed as we continuously grow and develop. We see vast progression in: the equipment we use; the strength of wind we look for; the skills we practice and the confidence we posses. Despite all of the ongoing advances there is one very crucial constant, critical to unlocking our potential. Our support, our guidance, our instructor. Without their warm words of advice, lines of encouragement and relentless enthusiasm, none of us would be the windsurfers we are today. Those inspirational mentors who dedicate their efforts to showing us the ways of the windsurfing wizards are one of the key reasons we love our sport so dearly.
As we ourselves reach a certain level of windsurfing many exciting opportunities open up. None more exciting than the chance to pass on all that we have learnt to next wave of windsurfing talent. The decision to start teaching can be one of the most rewarding decisions you can ever make in windsurfing. So, what are you waiting for, it's your time to lead. Surprise yourself, instruct.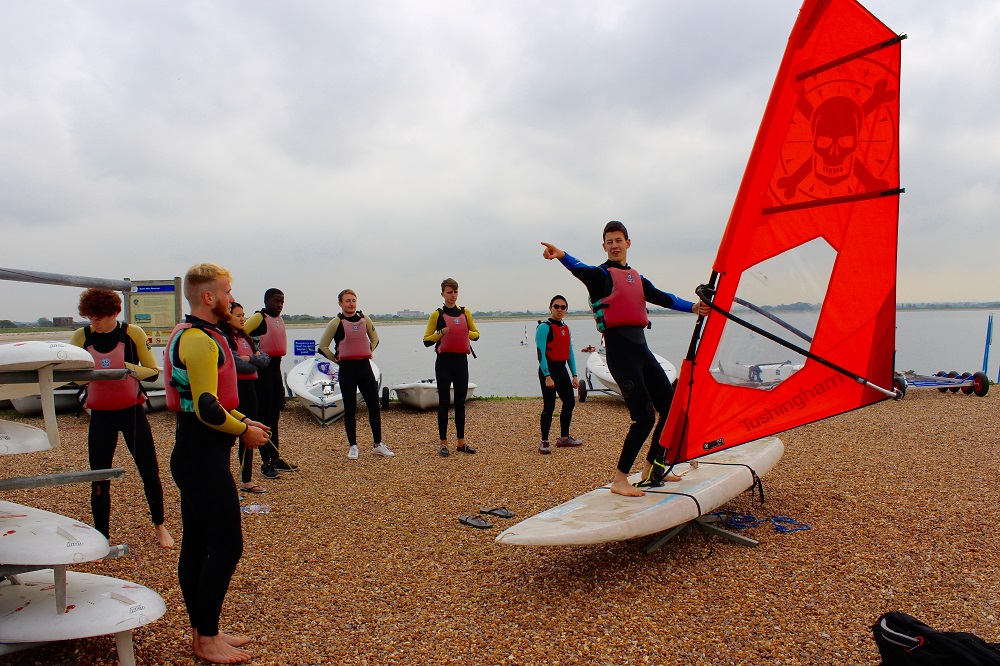 Recently the SWA caught up with one of its most experienced waterspouts instructors Taffy Osbourne. Taffy has been a lifelong instructor of both sailing and windsurfing. He has instructed and managed watersports centres in the UK and around the World, including Corsica, Egypt, Greece and France. Taffy currently runs his very own water sports centre in North Wales. Here is Taffy's take on what being an instructor offers you and how you can get onto a course. 
 Taffy Talks Teaching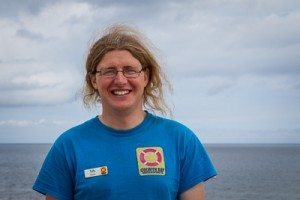 What's great about being a windsurfing instructor? What's great about being a student and a windsurfing instructor? Where do I start. The question reads to me like "justify all your life choices for the last ten years," because being an instructor is so awesome that it's effected literally everything that I've done since.
OK, for starters – you will be the coolest kid on the block. Short of being an astronaut, racing car driver, or jet fighter pilot, you have the most awesome job of all. Hanging out on the beach, helping people have fun is epic fun, and everyone knows it. I've taught my fair share of accountants, engineers, layers, policemen, scientists etc. to windsurf and what they all have in common other than enjoying themselves is on some level, they are jealous of you – you get to do THIS and get PAID for it?!
What about skills? Doing your instructor training teaches you the nuts and bolts of running an instructor course, but the learning really gets going once you are in the job. With the RYA's model of having a senior instructor supervising all activity, it means someone is always there to make sure that you are constantly improving. The best thing is that a huge amount of this is transferable. When I was a student, I found that some of the things I was asked to do were a real challenge for my course mates. Working in a team and presenting information in particular were difficult for many, which were second nature for me with my background in instruction. 
Seasons? Oh yes. So the windsurfing training industry has a problem. The demand for their product is absolutely enormous for about six weeks of the year, moderate for a while either side of that, and non-existent in the winter. Luckily, they have an answer to this – the student instructor. Whilst at university, on most courses you have an absolutely enormous and awesome summer break. This means if you are a qualified start instructor you are very in demand for the peak season in the Mediterranean. Get flown to a hot country, to work on a beach all day and party all night? Sounds pretty good. It IS pretty good. It is definitely hard work both physically and mentally, and not for everyone. Also the partying is offset by the lack of pay and the need to be ready and on time for work with no visible signs of last night showing every day. I think when work is that much fun, and I get to hang out all day with a team of instructors just like me it's more than worth it.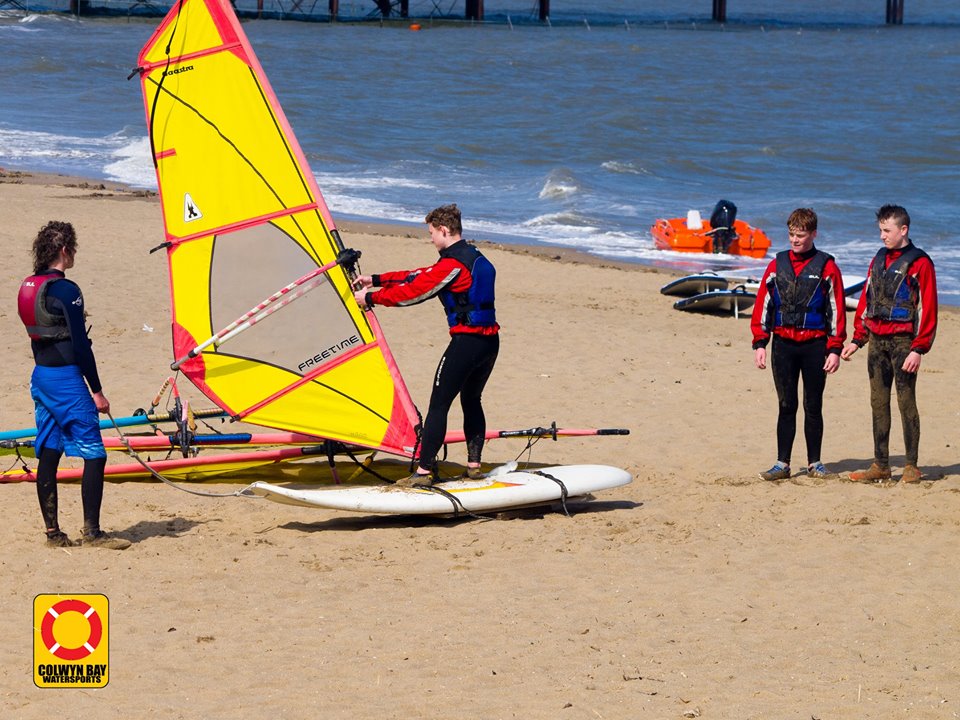 Do you actually need money over the summer? Do the same season but at your local RYA centre in the UK. The UK has convenient laws about minimum wage and you aren't having pay deducted for accommodation and food etc. Teaching in the UK can be more of a challenge due to much more variable conditions and the need to teach in miserable weather from time to time, but it's still great fun (I work full time in the UK now) and you have a lot more in your bank at the end of the season.
Back at university after the summer, it is hugely rewarding giving back to your windsurfing club. You've got the skills to make the club that you've come to love a really attractive thing for a new intake of beginners. Helping others have all the fun you've had learning to windsurf and learning to be an instructor keeps it all going round and means the student windsurfing experience is going to available for generations more students to come. 
If this all sounds great or you'd already worked all the above out on your own, speak to your club president about getting your instructor ticket through the SWA courses run at Colwyn Bay Watersports in April and July, or contact the centre direct. We look forward to welcoming you to the family of windsurfing instructors!
Booking for courses 2017 have opened,
Courses can be found here:  http://colwynbaywatersports.co.uk/instructor-courses/ 
Taffy Osbourne:  taffy@colwynbaywatersports.co.uk
Waves Glorious Waves.
Making the transition into wave sailing can be a daunting prospect, but in reality you are likely to have many of the skills you need to dive into the swell and start taking your windsurfing in new and exciting directions. To help break down some of the most important aspects of this incredible windsurfing discipline our resident SWA wave series directors: Ben Page and Dan Lytton have put together this excellent guide for you. The SWA hosts 3 wave events every year visiting some of the UKs best loved wave sailing spots. With so much fun to be had now is the time to get in involved! Here are our answers to some of the most common questions regarding the wonderful world of waves.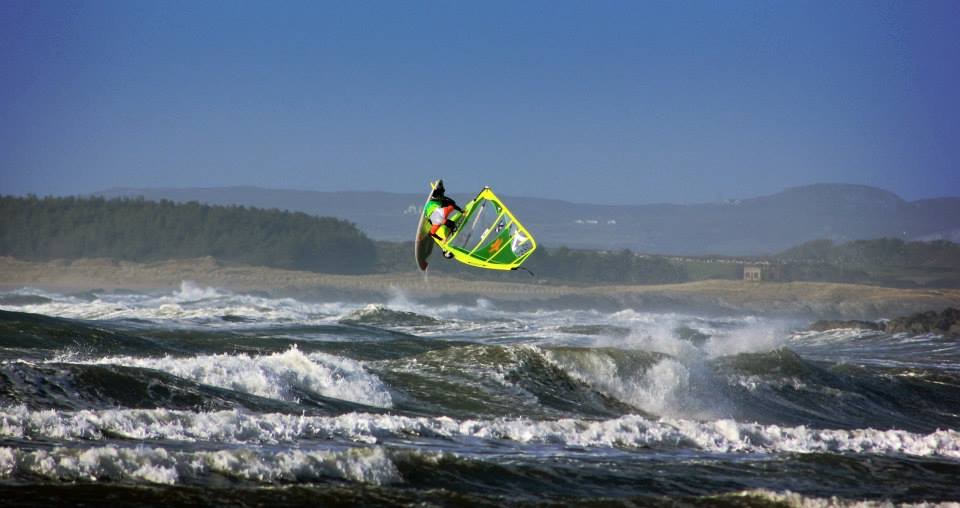 Level and Tuition
What level do I need to be?
 Since waves add another level of complexity to the potential windsurfing conditions it is important that you are confident in some of the core intermediate and advanced skills. We usually recommend that to try wavesailing you should be able to:
Waterstart with a reasonable degree of confidence.
Plane comfortably in the footstraps and harness on a board of less than 120l. 
If conditions are particularly gentle then it may be possible to try it out if you do not meet these criteria but for the most part this is a good minimum standard to ensure your safety.  
Will someone teach me to wave sail?
Whilst attending one of the SWA's wave week you are invited to attend our inclusive skills clinics. These are often the best place to receive guidance on: selecting your kit, wave sailing stance, launching and landing and much more. There is a huge amount of experience in the SWA and a fantastic opportunity to pick the brains of those who have been wave sailing for years! One thign to note however is that you will not have an instructor as such. Members of the beach team are often happy to offer pointers if you are struggling but will not be by your side for the entire event. To make the most of the event it's best to prepare before hand. Even something as simple as watching a few videos of wave sailing before the event can reduce the sense of unknown, there are also lots of blogs and added info on the web so make the most of some research! 
Kit
What Kit do I need? 
It is not essential to use specialist wave kit to go windsurfing in waves. For boards, something under 120l is a good starting point. Any bigger than that and it gets pushed around by the waves and makes life much harder. For sails, anything works really, don't use anything bigger than 6.0m as again it becomes a rather large target for the waves. 
Can I use demo kit on the day?
There is not always demo kit at the wave events. Do not rely on it. If there is some available then speak to the brand rep and arrange to borrow it. Unlike core events, they need to know exactly who has what and when. NB: If demo kit is available it is often not possible to use it during heats. 
I Don't have my own kit, what do I do?
Many clubs have kit in their lockups that you could borrow. Again anything smaller than 120l and 6.0m. If you're keen, then you should buy your own kit. Rental wave kit is almost non-existent in the UK. If you want to go wave sailing again, having your own kit is pretty much essential. Unlike a core event kit is likely to be used by one rider exclusively for the weekend.

Competition 
Is the competition compulsory? 
No, but it is a great way to push yourself and learn a thing or two. Competition entry is included in windsurf tickets. The competition is not super serious so please don't feel intimidated by it. If you do enter, please be on time. If you miss your heat, that's it, it cannot be changed. 
How does the scoring work?
Wave events at all levels judge two broad elements; wave riding and jumping. The weighting between the two varies depending on conditions. This will be announced at the briefing and displayed on the notice board. A typical scoring system would be two wave rides and one jump to count. Each wave or jump is scored out of ten and the total score is compared to the others in your heat to decide who goes through to the next round.
Wave riding is judged on several elements:
Wave selection; picking the best waves to ride will gain you points. Generally the bigger the wave, the more points you will get. You will also get more points for a wave that doesn't close out (break all at once) and gives you a chance for more turns on it. 
What part of the wave you ride on: the judges will be looking for you to be riding in the 'pocket' (just in front of where the wave is breaking). If you ride the whitewater or an unbroken swell then you will still get points, but not as many. Riding in the pocket can be quite difficult, but is also the fastest and most exhilarating part of the wave. This is why it is regarded highly and scores accordingly. 
What you do with it: Judges like a sailor to make the most of the wave they have caught. Riding with speed and getting as many turns as possible is a good place to start. Use your speed and throw some spray! At the top end, manoeuvres such as an aerial off the lip score highly. 
 Jumping also has a few elements to it:
 On the SWA, we will score anything where you get your fins out the water. Crashes do not score highly, you will get more points for landing a high jump than for crashing a forward loop. Despite crashes not scoring well we often award a prize for the best crash so still go for it! 
Here are some suggestions for jumps if you can't loop: big floaty jump, one handed jump, rail grab jumps. Then if you're feeling extremely adventurous; no handed, one footed, table top, surprise us!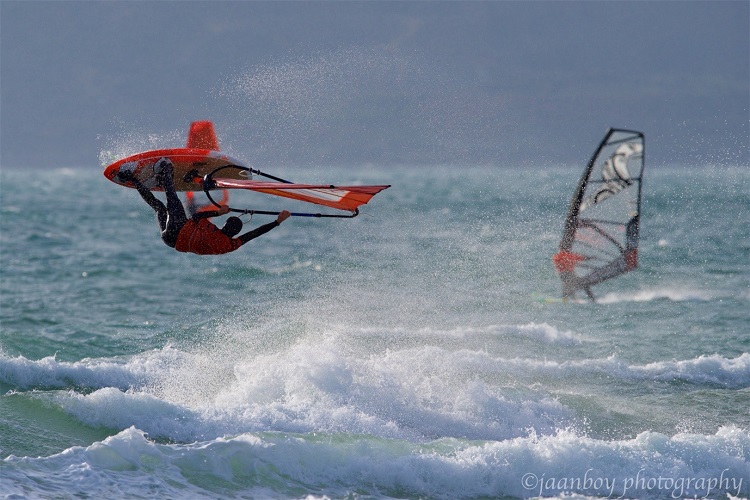 General tips for sailing in a heat:
Go for a practice run. Go out for a sail and check you have rigged the right sail size.
Start upwind. There is a set heat area, anything you do outside it will not be scored. You will always move downwind through the course of a heat. So it makes sense to start right at the upwind end of the area, giving you as much space to play with as possible.

Decide on a plan. One approach is to start way upwind and fly though the competition area as the green flag goes up, doing a jump on the first run. This leaves the rest of the heat to hunt down wave scores. Other people like to do the opposite and launch before the heat starts so they can catch a wave immediately at the start and get some points in the bag.

Fill your score card. I'm mentioning this because it is the single biggest mistake people make. If the scoring is two waves and one jump, make sure to ride at least two waves and do a jump. It sounds obvious but it is remarkably common for people to fail to do so. If you get a jump and ride two waves, even if they aren't the best you've ever done, you'll be in a good position to go through. 

Take your time. Ten minutes is actually quite a long time, if you haven't scored and time is ticking, just calm down and think what you need to do. It's all very simple but in the heat of the moment many people forget to think logically like this. As ever, the golden rule is FILL YOUR SCORE CARD. 
What do all the flags mean? 
The flags are used to signal when heats are starting and finishing.
They do not indicate which heat it is.
You need to check the heat board to find out which heat you are in, and when it is in the order. 
The flag system stays the same between the events;
Red flag goes up: two minutes till heat start.

Yellow flag goes up: one minute to heat start.
Green flag goes up: heat start.
Green flag comes down (no flags): one minute to go.
Red flag goes up: heat ends/two minutes to next heat.  
Safety 
Why is it safer to start wave sailing at an SWA event?
One of the most difficult things about wave sailing is choosing when and where to go. At our events we do this for you. We endeavour to hold the events at the most suitable beach in the area to provide good and safe conditions. Rescue cover at wave beaches does not exist outside of events. As such you will likely not get another chance to go wave sailing with rescue cover. 
 Could you tell me more about the rescue cover? 
Our rescue cover is in the form of a jetski with a rescue sled on the back of it. It is primarily there to stop you from getting into serious difficulty. It is not for giving you a lift back upwind. Rescue in waves can be hazardous. Our main priority is in rescuing you, not your gear. We will leave your kit behind and take you to safety, if it is safe to collect your kit afterwards then we will. 
What do I do if I'm in trouble? 
Hold on to your kit with one hand and wave the other arm above your head to signal for help. If you are sailing and see someone who needs help, make the beach team aware and offer any help you can. If you are being washed back towards the beach we may not launch the jetski, and just wait for you to reach the beach. 
What if we get to the beach and the waves are huge? 
There is no obligation to go in the water. If you do not feel comfortable with the conditions then do not go out. If you are unsure, talk to a member of the SWA wave team. They will be able to advise you as to the suitability of the conditions.  
What if I drift downwind? 
You need to walk back. The jetski will not give you a lift back up the beach.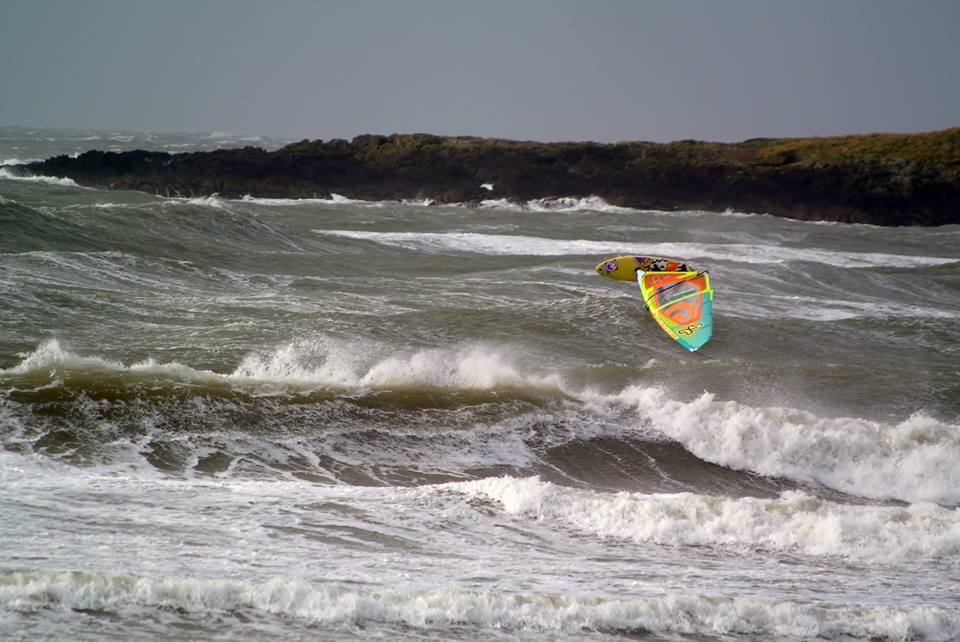 Will I get laid by starting wave sailing?
 Yes, definitely.
What does wave period mean?
The period is the time between waves. Measured in seconds, a short period means the waves are close together and a long period means they are further apart. Long period waves tend to be bigger, faster and more powerful. 
 If I don't windsurf on the day can I have my money back and just pay for a party ticket?
 I'm afraid not, we have a limited number of windsurf tickets to ensure safety. There are no refunds available if you decide not to sail. In the event of there not being wind, a windsurf ticket often includes an alternative activity. For example at Cardiff in 2016, windsurf tickets got a free surf lesson and board hire. This was not included with the party ticket.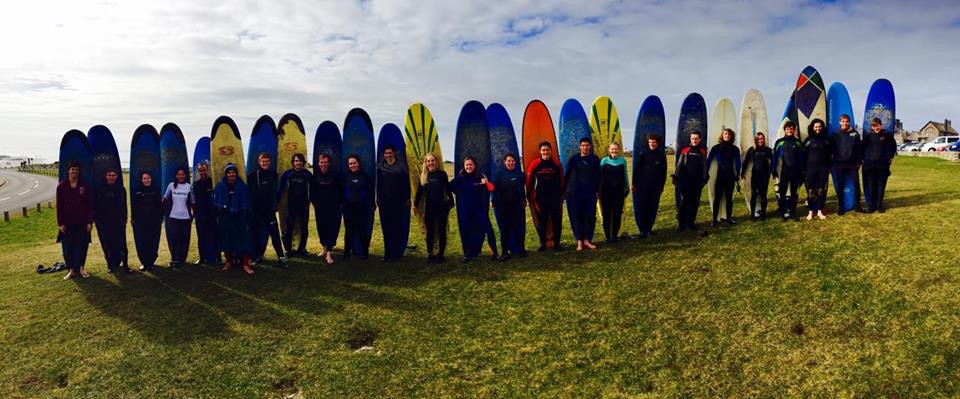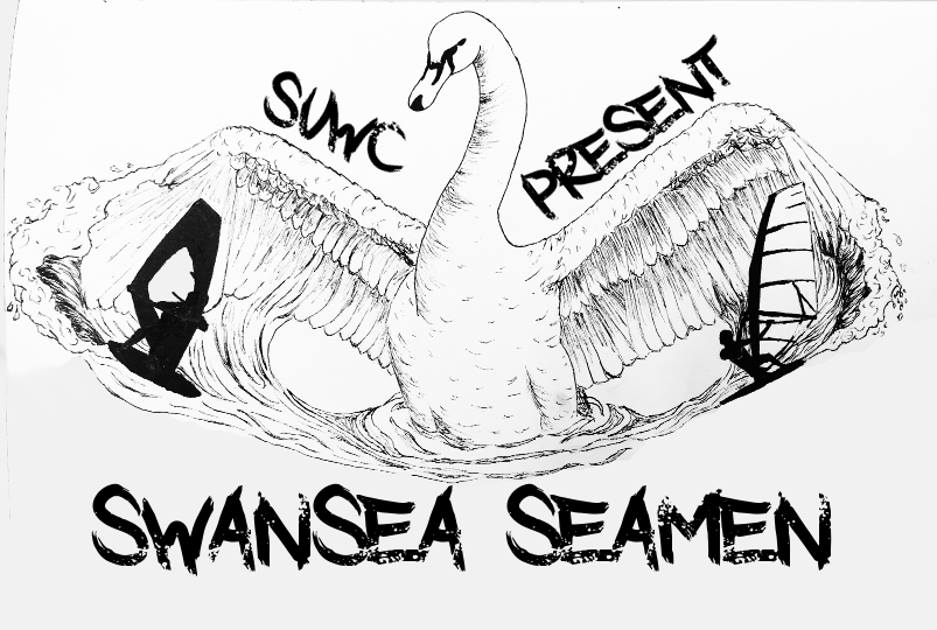 The 25th of November in the year 2016 marked the advent of Swansea University Windsurfing Club's first ever Student Windsurfing Association Event, Swansea Seamen! The 130+ person event took place down in Port Talbot in South Wales on the generous water mass that is Tata Steel Reservoir and featured a range of lessons and clinics for learning windsurfers along with freestyle competition and slalom racing for those looking to prove themselves on the water. Non – wind related fun was kindly provided by the Swansea University Live Music Society whose dulcet tones echoed throughout the Tata Sailing Clubhouse during their Open Mic sets which also allowed for those windsurfing attendees feeling brave enough to step up and serenade the crowd as well.
The weekend started off with 14 different universities from all across Britain piling into their minibuses vans and roof rack equipped cars and getting themselves across the bridge and border into the sheep filled and often rainy land of Wales. Friday Nights registration area and the venue for the evening's party were provided courtesy of Swansea University Student's Union and their events team and consisted of a private bar area for university groups to meet their hosts for the weekend followed by entry to the almost terrifyingly cheap Student Union Club Night Tooters!
Saturday morning invited the students to fill their bellies with the hangover curing bacon and eggs provided by their hosts and get themselves down to the lake to see whether they were still able to balance on a windsurfing board in their now somewhat fragile state. The wind, also appearing to be in a fragile state, decided to disagree with the forecast and not be present. Not ones to be disheartened by the lack of power in their sails a troop of over 30 beginners took to the water to work on their tacks and gybes, helped along by the beginner clinics led by Michael Jarman and his team of instructors.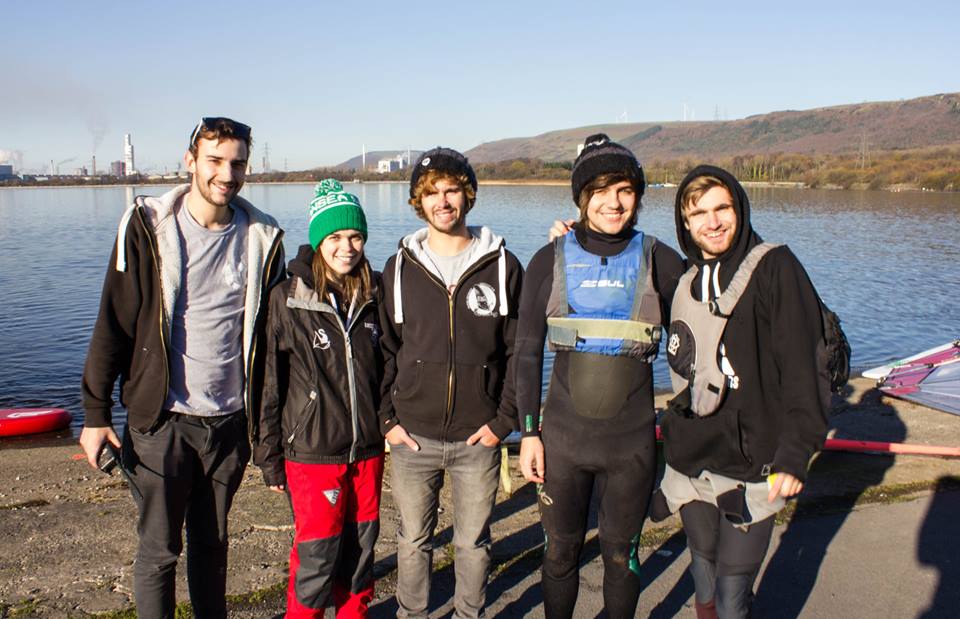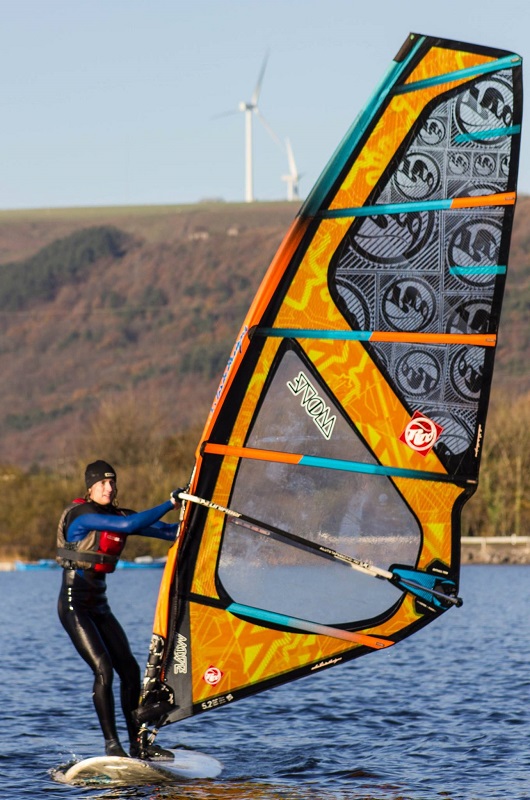 In order to get some competition underway despite the wind conditions Saturday afternoon brought us the light wind freestyle competition! Judged by Taffy Osborne, Michael Jarman and Sean Coutts competing universities more advanced windsurfers launched into a two heat battle to show off their hail mary attempts, strimmers, all manner of heli-tacks and much more. Ending in a final heat consisting of four competitors Southampton University took a full podium with Charlie Wilson in 1st Place, Leo Calnan in 2nd and Oliver Bull in 3rd .
After a surprisingly sunny day out at the lake the students headed back down the M4 to their host houses in the city centre to prepare for the epic fancy dress party of the evening. The theme for the weekend 90's kids TV shows and saw the students getting nostalgic as they transformed themselves into Teletubbies, Pingu, Dennis the Menace, Powerpuff Girls and many more. The Swansea Seamonites descended on the infamous Wind Street where a grand time was had by all, with beauty and grace, the SWA were let loose on the dance floor.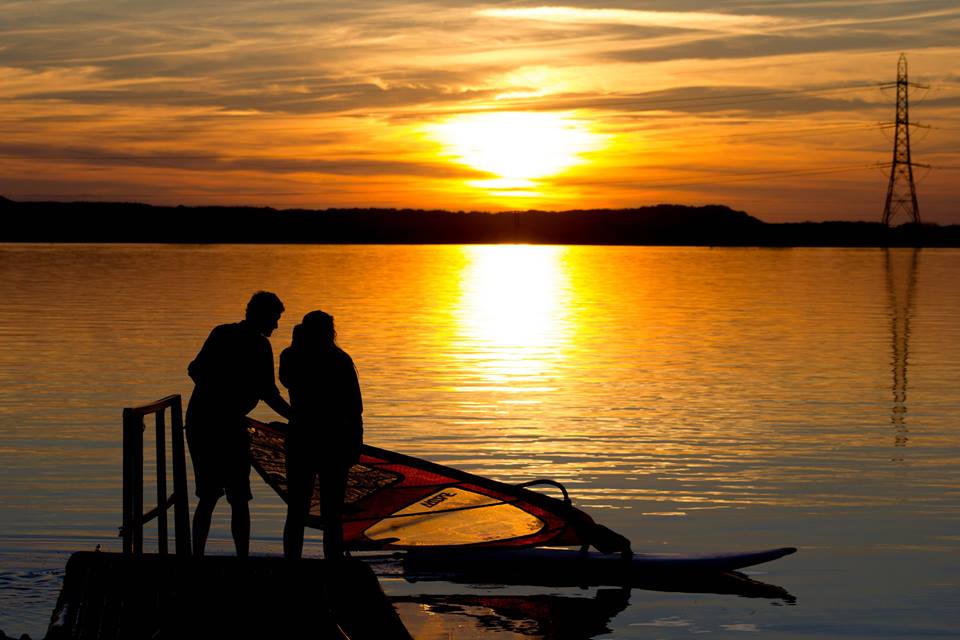 Saturday nights partying antics seemed to appease the wind gods as the students were greeted at the lake with a decent breeze enabling the day to kick off with some more beginner, improver and intermediate clinics led my Michael Jarman and Jake Roberts before the beginner, intermediate, advanced and team racing began in the afternoon.
Unfortunately the lakes main slip was unavailable for launching as some sailing races were commencing at the same time but a little ingenuity and innovation from the SWA Committee led to a successful time trial relay team race won by the home team Swansea, followed closely by Birmingham in 2nd and Sheffield in 3rd.
Next up were the beginner races with Victoria Taylor and Klaudia Swistek from UWE in joint 1st followed by Ben Silcock from Swansea in 3rd. The final race of the day was a joint start between intermediates and advanced racers and resulted in 1st for Natalia Orgonova (Birmingham), 2nd to David Salmon (Imperial) and Harriet Wright from Swansea in 3rd for the intermediates. In the Advanced fleet 1st went to Tom Sambrook (Birmingham), 2nd  Ben Bulson (Bristol) and Leo Calnan (Southampton) in 3rd. The weekend was ended with a prize giving ceremony and debrief followed by a woeful goodbye as each university regrettably packed up their kit and headed off into the sunset.
A special thank you goes out to Boardwise for coming down and providing loads of great kit for all the students to use over the weekend, the SWA Committee, Tata Steel Sailing Club, Swansea SU Events Team, Swansea University Live Music Society, The Swansea University Windsurfing Club Committee and of course all the wonderful guests from the weekend it wouldn't have been possible to have such a fantastic event without everyone, we hope you all enjoyed your first time and we will see you all in the coming events throughout the year!