Hello, and welcome to the official SWA Event Debrief™  from our last event of the season: Baylord II Gratuitous Seaquels (BUCS Nationals)!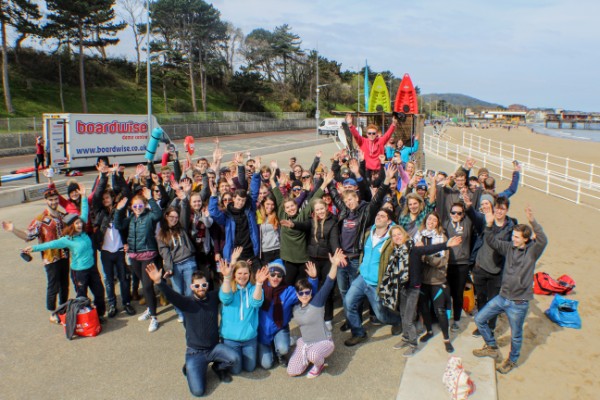 Whether you missed out and couldn't make it, or you did go and want to bask in the glow of good memories, read on to learn/recall how incredible the Baylord II event was… 
Friday Night
After a long drive up after lectures on Friday (shout-out to the minibus parties for keeping drivers going), students from across the UK arrived at Colwyn Bay's fabulous Stadiwm Zip World, which had a big indoor astroturf pitch for everyone to erect tents in.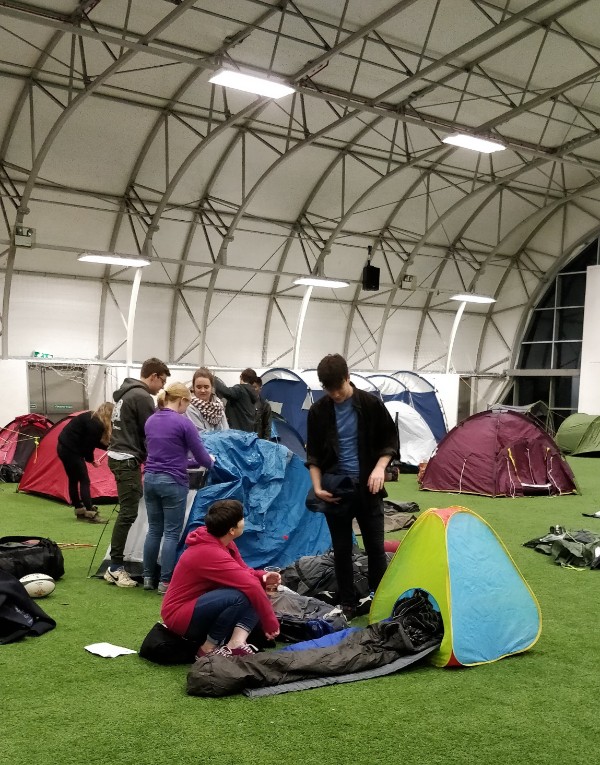 A steady flow of students were arriving until the early hours, but as soon as the faff of setting up the campsites were done, it was over to the bar next door, where ex-Southampton President Leo Calnan was DJing some sweet tunes.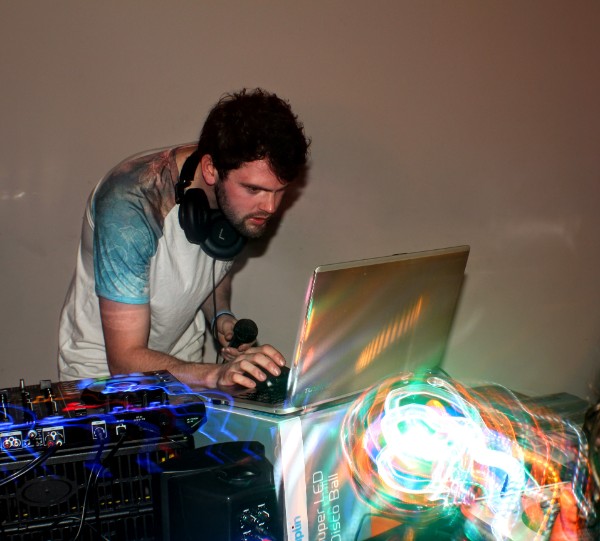 Lots of fun was had, dancing with all the friends we'd made at events throughout the year and exchanging some light competitive trash talk. As midnight rolled up, we made our way back through to the astroturf pitch for a few impromptu games of rugby and ultimate-frisbee before hitting the hay.
Day One
The next morning, it was a delightfully short walk down the hill to be greeted by bacon butties on the beach.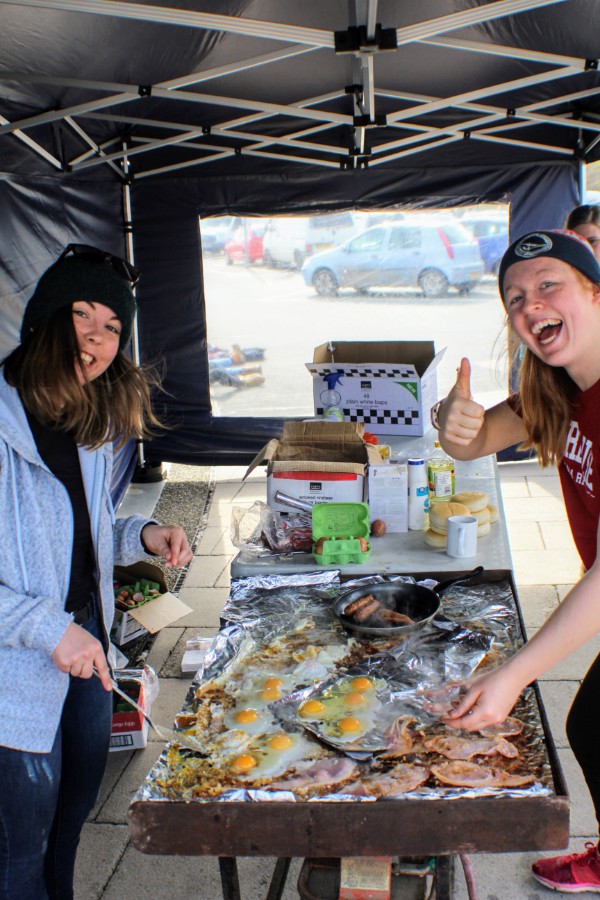 With hangovers brightly greeted by the sunny Saturday morning, everyone knew the best cure: going windsurfing! Various kit vans from different universities were pulled up to the beach, and the unloading and rigging of kit began.
Yet again, Boardwise kindly provided a van full of demo kit, which was promptly rampaged by eager students wanting to bag the best racing gear with the Tushingham Express 7.5s being the order of the day for many. A huge thank you to Boardwise for providing fantastic kit to yet another event.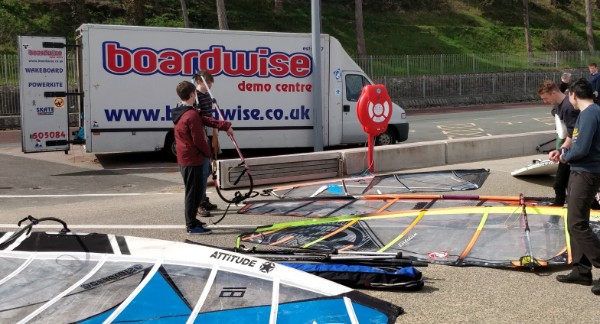 Advanced Racing
First up, the advanced racers were sent out to show everyone how it's done. However, with a very strong tide, light and shifty winds, and a pack of competitive windsurfers, it took 3 attempts to get the first race underway, but that didn't hinder the contenders' enthusiasm. The strength of the tide wasn't fully noted until racers realised they were going backwards on the way back to the boat, which made for very close racing. Fitness and pumping technique were key and definitely favoured the racers amongst them. A slight mistiming of flags in one race resulted in James and Matt crossing the start line too early, but luckily they both realised and recrossed the start to avoid disqualification, but leaving them at the back of the pack and pumping hard to get back to the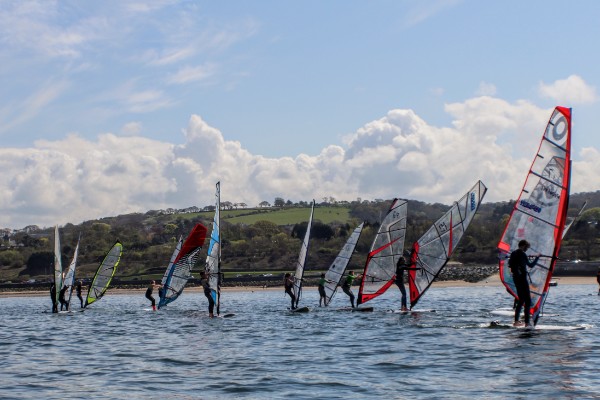 Four races took place, with some very tight competition all the way through the pack. With BUCS points on the line, we saw some new faces for 2018 on the racecourse – Gabriel Brettel (Nottingham) was one of these, who fought hard against Tom Sambrook (Birmingham) and Matt Carey (Bristol) to 2nd place, however it was James Hatcher (Exeter) who stole the show with 3 wins out of 4 to take the BUCS crown and keep it with Exeter for another year. The closest battle was, without a doubt, between rivals Matt Carey (Bristol) and Tom Sambrook (Birmingham) who finished the weekend on equal points even without the discard. Tom took the bronze based on a higher number of 2nd place results - the tension could have been cut with a daggerboard!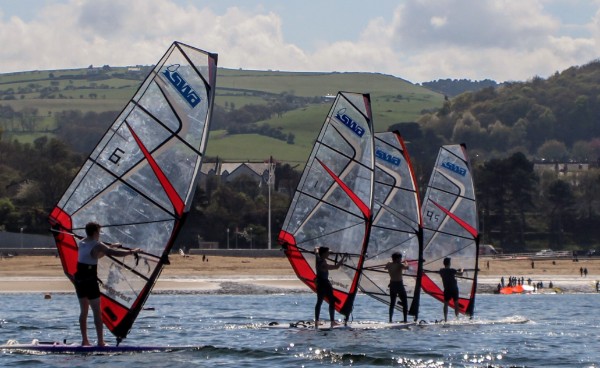 Amongst the girls it was old GB Junior Racing Squad frenemies Sarah Jackson (Bath) and Alice Read (Plymouth) going head to head for gold in some very tight racing. After three races it looked like Sarah had sealed the deal, however in the fourth a terrible start left her facing backwards and with a fight on her hands. With Alice a long way out in front, Sarah needed to claw her way back to 2nd to take the overall win, which she managed in the final 30m of the race!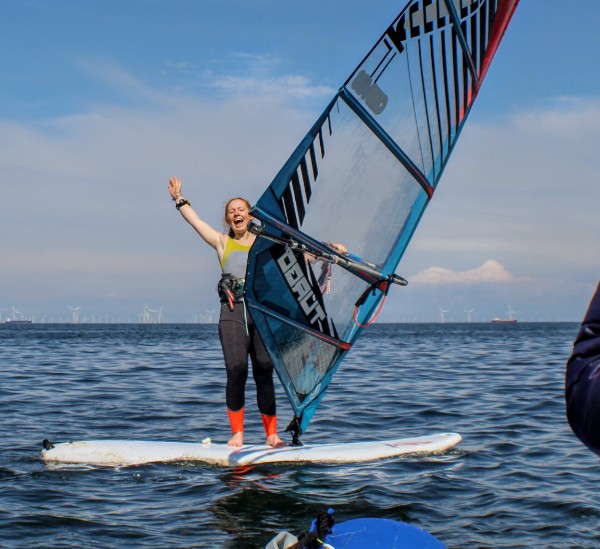 The fight for 3rd place was also very close with several people in the running. It was only in the final race that Helen White (Cambridge) secured the overall Bronze - only 7 points separated 3rd and 7th, which shows just how close the racing was. 
With most of our podium placers only in their first and second years, we're watching with keen eyes to see how these battles pan out next year – certainly not to be missed!
Intermediate Racing
After watching the mistakes of the advanced racers, the intermediates took to the stage and stole the show. Quick racing with minimal faff saw them complete all their racing in half the time – something the advanced guys could learn from!
Seb Garfield (Bath), winner of the Intermediate Fleet reports:
"With light winds and the prospect of bevs and BBQs in the glorious sunshine afterwards, the inters set off to mill around the start line and many chose to raft up and shoot the (light) breeze while waiting for everyone to be ferried out. As the first start came close, the drifting rafts dispersed and all started to vie for position, with Sami (Safety Boat Lead) providing the soundtrack.
Several approaches were taken: getting right on the start line and waiting, starting from further back and sliding through the gaps, staying nice and far back to avoid the carnage of some dropped rigs and drifting / getting a bit too cosy to other competitors, or in some cases, getting stuck between a rock (committee yacht) and a hard place (a fallen rig blocking the way out)."

Once out on the course, close racing ensued with a battle of pumping - those who could figure it out quickly moved to the front of the pack. Varying speeds of gybe saw opportunities for position changes, leaving the final leg for concentration and not trash talking with the competitors around. Laura Hulley (Liverpool) took the first win of the day, followed by Seb Garfield.
With blagging rights at stake, Seb stepped up his game and won the remaining 3 races to take home Men's Gold. When initially asked to report on the racing, Seb responded: "I might not be too helpful as was looking in front at nobody lol". Fighting talk from the Bath fresher who will be mixing it up with the big boys in the Advanced racing next year.
On the girls' side, Laura Hulley led from the front, showing the guys how it was done in the first race. She said "the main thing I can remember was the carnage at the start line, (there were lots of sails and people in the water) and so much pumping, those of us who didn't know how to originally definitely got the hang of it by the long race at the end. It was loads of fun though, it was pretty friendly but because there was hardly any wind we could get some fighting talk in going around the course!"
BIG-WINNERS! (Beginners)
With racing for all levels on offer, even those new to windsurfing were able to get out on the water and compete. Racing was held just off the beach and it was great to see how much everyone had improved throughout the year! 
"The beginner races were great fun! There were 6 races with everyone racing 3 times so you could get properly stuck in. It might have been a bit more competitive with some shiny medals up for grabs, but was as laid back and as good a laugh as always!" - Chris Outlaw (Bristol - Men's 2nd place)
Mens' winner, Tom Casburn (Bristol), adds: "the beginners race was a lot of fun, featuring some excellent light wind freestyle tricks - unbeknown to those involved - and the emergence of high levels of competitiveness in some windy newbies"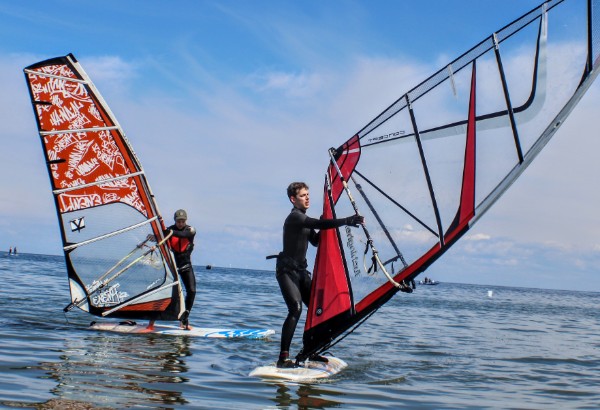 "I really enjoyed the beginner race because it enabled us to have a bit of challenge but in a really friendly atmosphere so it is great fun !" - Margaux Pouliquen (Cardiff - Women's 1st place)
Beach BBQs
Meanwhile, on the beach there were some pretty intense games of volleyball, barbecues were popping up along the promenade and only mildly warm beer was flowing with victories being celebrated whilst commiserations drowned. Plenty a windsurfer could be found with a burger and beer in hand before trekking back up the hill to get their gratuitous costumes on.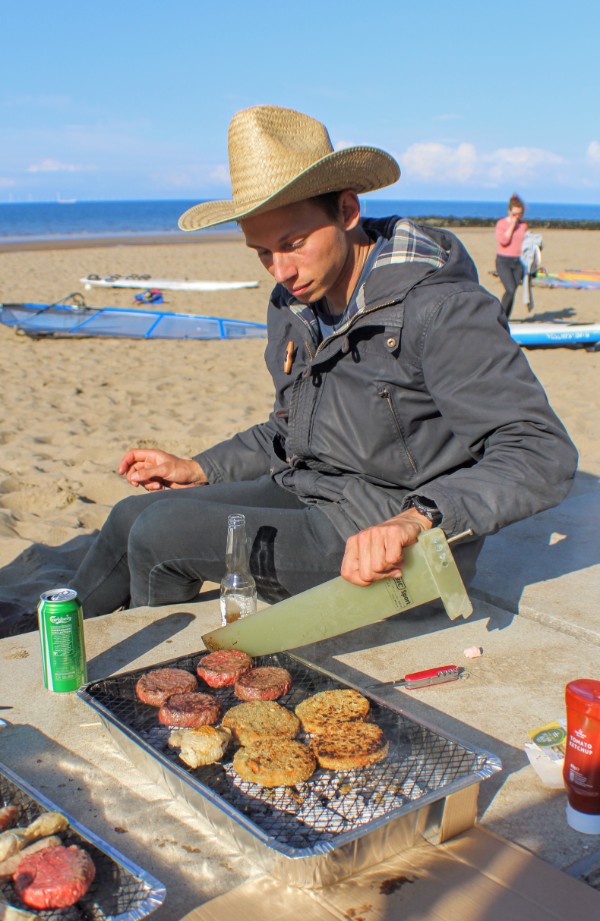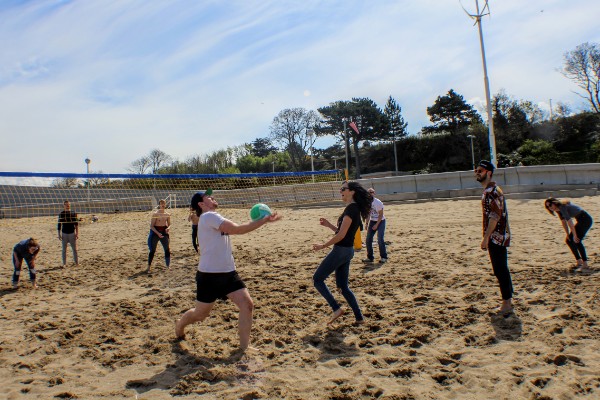 SWA AGM
Once racing and dinner was done for the day, the AGM was underway. Congratulations to Nicola on becoming the new president of the SWA, and a big thanks goes to the outgoing president Adam for his hard work over the last year – we are looking forward to welcoming him back to the web team.
Congratulations are also in order to:

- Luke Storry - Head of Media

- Pablo Andalaft Tarodo - Treasurer

- Matt Duffin - Sponsorship Coordinator (with a dash of tech team)

- Sarah Jackson - General Minion

- Michael Crompton - Events officer

- Emma Hattersley - Events officer

- Kai Davies - Events officer

- Naomi O'Mahoney - Social Media
Evening Entertainments
Back at the campsite, glitter and cardboard was being hastily applied, various dodgy God/Cod Father puns were coming from the Plymouth area, and Bristol were getting keen with the duct-tape.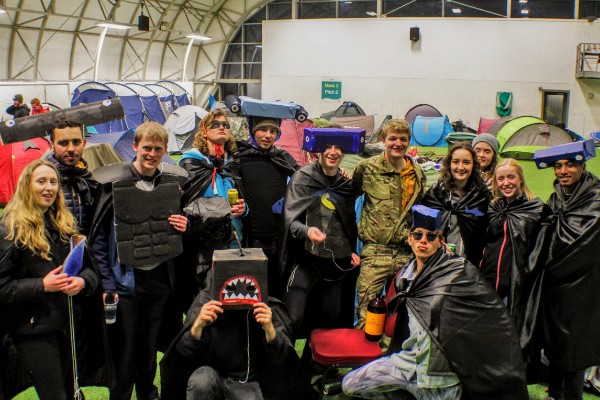 Once fully prepared, the windsurfers-turned-costume-designers headed to the Marine Hotel for a boogie (thanks to the staff and establishment for hosting!). As the night went on, an assortment of inflatable crocodiles, wigs and cardboard head-dresses made their way around the room. Tops went flying when the Baywatch theme tune came on, including DJ Leo's (shout-out for another great set), and we danced the night away. After everyone had finished krilling it on the dancefloor and the seaquel-based puns had worn off, the windsurfers journeyed back to their tents or in search of takeaway.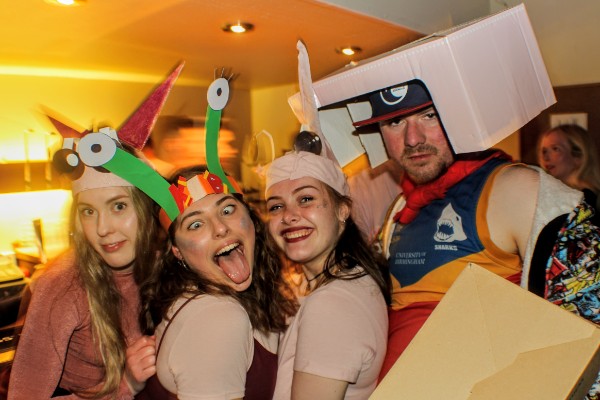 Day 2
Despite a mild sleep deficit and some slight headaches, everyone made it down to the beach in pretty high spirits (mainly because of the bacon butties) for the team racing and freestyle.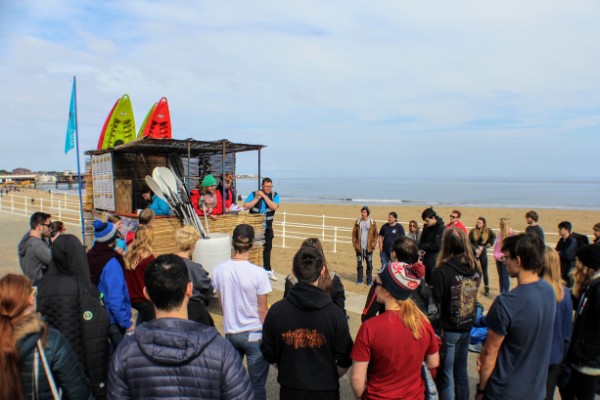 Team Racing
A pinnacle of inter-university rivalry is our team racing, where each university enters their best 3 competitors to duel it out in a relay race.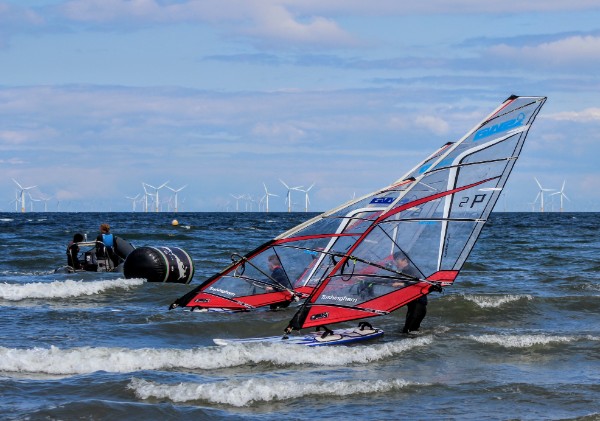 With a strong turnout calling for multiple heats before the final, there was a lot of tight racing in very challenging conditions. Once again the tide was strong with light shifty winds, and a small swell caused problems for many, congrats to the Bristol girls team for working together to make sure everyone completed the race: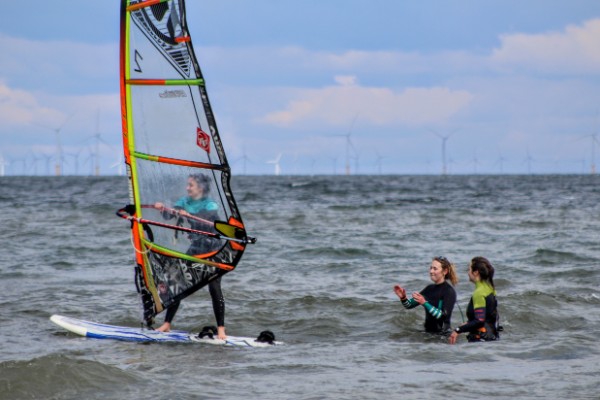 The final between Birmingham, Bristol, Exeter, Liverpool, Nottingham and Sheffield, is reported by Thomas Sambrook of Birmingham:
"The final was contested with 6 teams on the start line. Birmingham took an early lead, however due to a fall at the first mark by Matt Casula the other teams had to go wide, but fell in on their gybes too. From that point Birmingham stayed in the lead with Exeter trailing by just half a leg for the remainder of the race."
Freestyle
The weekend finale was, as usual, the freestyle event. Although not the biggest fleet of the weekend, this didn't detract from the high level of competition, making hard work for the judges. Matt Duffin (Bristol) threw down a strong heat with helitacks, boomerangs, cowboys and sail-360s, however Jane Paddison (Liverpool) matched him almost move for move. Wanting to keep his wetsuit dry, Luke Storry joined in the freestyle still wearing his fancy dress from the night before: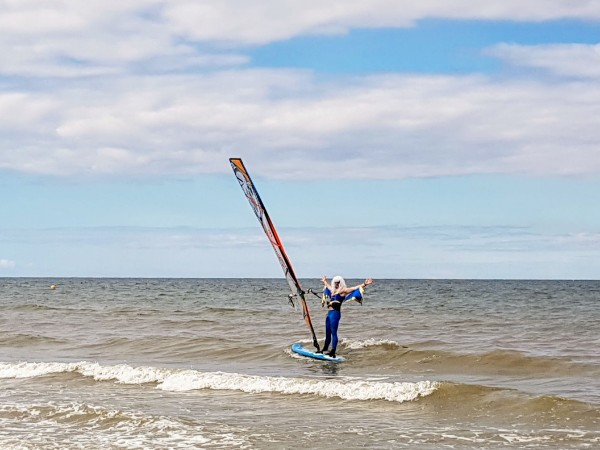 Towards the end of the heat experience took over and Jane whipped out her wildcard move - the Macarena -  which wowed the judges and stole the victory!
Prizegiving
When the day's water-based fun was over, and kit stowed away in vans for the drive home, it was time to head into the meeting room at Porth Eiras, to announce the results.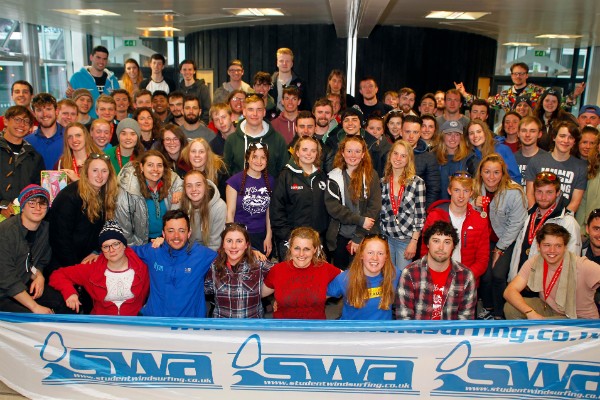 Advanced Mens:

1st – James Hatcher (Exeter)

2nd – Gabriel Brettel (Nottingham)

3rd – Thomas Sambrook (Birmingham)

Advanced Womens:

1st – Sarah Jackson (Bath)

2nd – Alice Read (Plymouth)

3rd – Helen White (Cambridge)

Intermediate Mens:

1st – Sebastian Garfield (Bath)

2nd – Ben Essigman (Sheffield)

3rd – Jon Baddeley (Plymouth)

Intermediate Womens:

1st – Laura Hulley (Liverpool)

2nd – Emma Hattersley (Exeter)

3rd – Antonina Tamborska (Bristol)

Beginner Mens:

1st – Tom Casburn (Bristol)

2nd – Chris Outlaw (Bristol)

3rd – Michael Crompton (UWE)

Beginner Womens:

1st – Margaux Pouliquen (Cardiff)

2nd – Alizee DeGroodt (Plymouth)

3rd – Saffron Hill (Exeter)

Male Team:

1st – Birmingham

2nd – Exeter

3rd – Nottingham

Female Team:

1st – Bristol 1

= 2nd – Bath

= 2nd – Bristol 2
As BUCS Nationals was the last event of the season, it was also time to crown our overall winners of the series. With tight competitions throughout the year, and a wide range of incredible prizes donated by our sponsors, there's too much to include here, so we've got an entire end-of-season results article coming up in the next few weeks, as well as a Year-In-Review article coming up in the WindsurfingUK Magazine, so keep an eye out for those! 
Next Year - Aussie Kiss!
With this season all wrapped up, preparations are well underway to make next year's Aussie Kiss the best yet! We've got some exciting announcements in the pipeline, we'll let you know more as soon as we can… 
"AK 17 is going to be amazing, we're doing big things! It's going to be different from every AK before it - we're doing groundbreaking work. Move over Galileo, there's a new visionary in town." 

- Nicola Hanson, SWA President
We've listened to your feedback and our priority is to bring the price waay down for the event in October. There are also going to be a few different ways you can get your hands on cheap/free tickets, including our annual #SWASummerSnaps photo competition, so be sure to take some photos on your holidays, and check back on our page over summer for more info!
 See you there!
---
Written by Sarah Jackson, Luke Storry & Rhea Denston

Images by Luke Storry
---
Also a special thanks goes out to a few organisations and people without which this event wouldn't have been as successful as it was:
Boardwise - For sponsoring and bringing their demo van to the event, letting students be fully kitted up with the latest sails and boards.
Colwyn Bay Watersports - Ran all the on-water safety and racing aspects of the weekend.
Porth Erias Events Centre / Stadiwm Zipworld - Hosting our camping on their indoor astoturf, and our Friday Night Party in their bar.
The Marine Hotel - Saturday night Party hosts.
RYA Cymru Wales - Events & Race-management training.
Colwyn Jetski Club - Kindly lent us their Gazebo.
Gog Triathalon - For lending us their Race Marks.
Jon Osborne - Allowing us to use his gorgeous yacht Kika as our racing committee boat.
Clwyd Willams - Let us use Wales' Top Farm BBQ System, on which we made breakfast for 120+ people.