Once again the SWA pulled it out of the bag and, thanks to the hard work of SWA Holiday Coordinator James Arney and Shaka Student Travel, we had an amazing windsurfing holiday in Vassiliki last month!
Despite Eric (the wind created by thermals from a nearby mountain) not making a proper appearance until the last few days, there was still plenty of fun to be had on and off the water. Instead of planing, there was plenty of epic light wind freestyle, and some renegade windsurfers even ditched their kit for paddle boards, kayaks and boats. It was a jam-packed holiday with watersports and partying - there was even the rare sight that is Taffy windsurfing!
---
 The Journey
The holiday commenced on Sunday 17th of June, when student windsurfers across the UK made the long trek down to Gatwick airport before congregating in a Wetherspoons to plate up and sink a pint or two, then boarding a plane to Vassiliki. Inflight entertainment included some individuals sleeping their long travels off, and others taking unflattering pictures of those sleeping windsurfers. There were many pictures doing rounds of the group chats with varying degrees of comatose. When we finally arrived at the Ocean Elements hotels, bags were immediately dropped and everyone ran to the bar for well-deserved beers and free soup. Whilst everyone was too knackered for a big night out, we were still capable of talking to the staff and getting cosy before falling into bed.
---
Windsurfing
The next morning we woke to a week full of windsurfing and glorious Greek sunshine. After a warming welcome from the staff at breakfast, we had windsurfing lessons for all levels, from beginner to advanced and foiling. Throughout the week, people took to the water to improve and reach their personal goals (and to also have a bit of fun!).

"The conditions are generally perfect [in Vass] as it's great for all levels, like light winds in the mornings for the beginners to practice but also great in the afternoon for the more advanced windsurfers getting into footstraps and doing front loops" - Ben
Beginners
Controversially, the staff at Ocean Elements changed Eric's name to Erica during our stay, due to it being so being temperamental - a certain president certainly opposes that gender stereotype. As much as we wholeheartedly disagree with this, Eric did not always like to show his face. This, however, did make the conditions for beginners a lot better and saw many of them improve in leaps and bounds through the course of the week.

"Beginner windsurfing was amazing, just because all the instructors took so much time to get our technique perfect – I really feel like I've nailed the basics and can move on to intermediate. It was also very goal oriented, sense of achievement, both personally and overall of the whole group. The lighter winds on the first few days were actually really helpful for us, it meant we had time to practice and were able to tackle the stronger winds later in the week. I do feel like I've improved – maybe I can call myself a windsurfer now!" – Jodie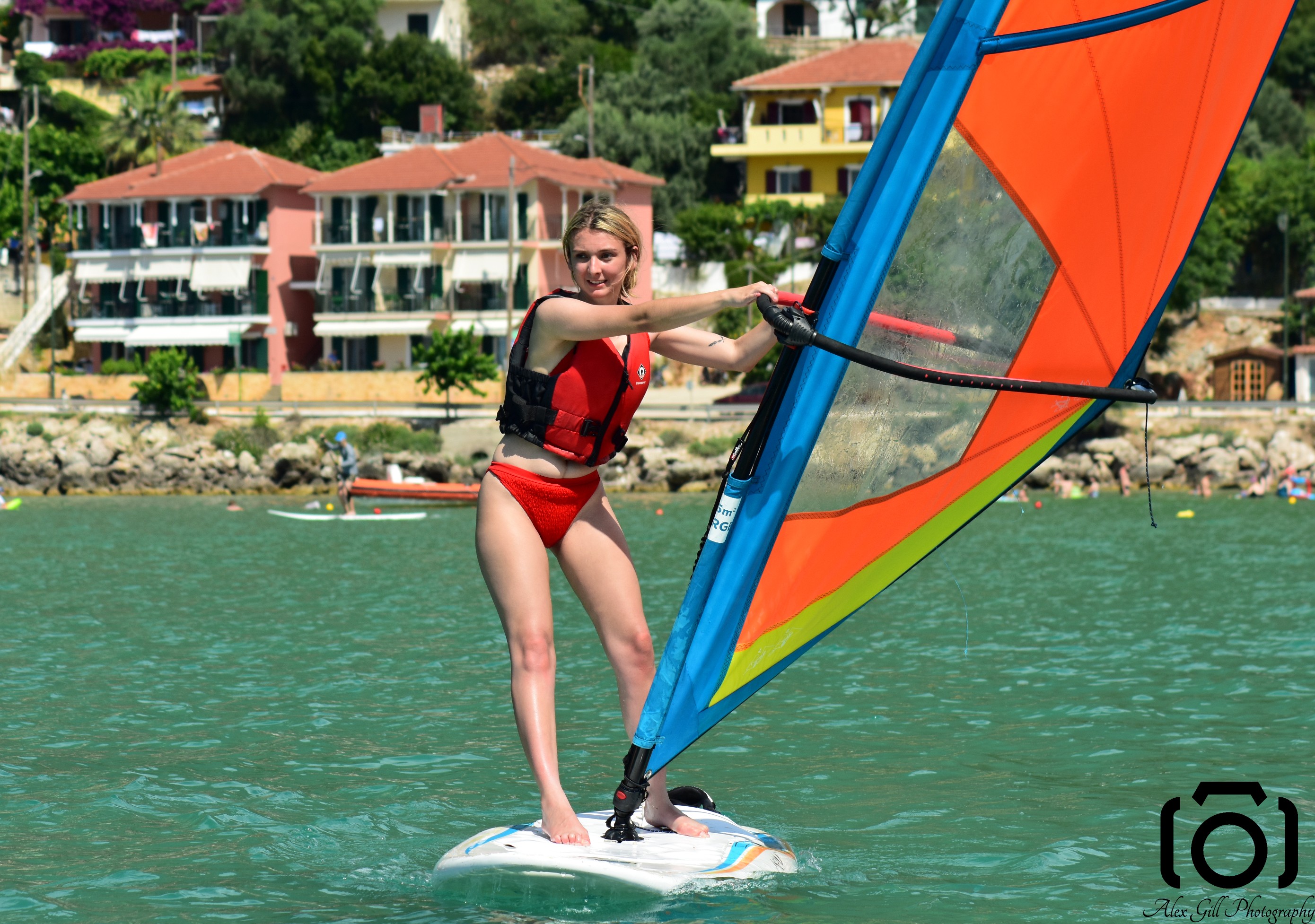 Intermediates
There were no limits to the brilliance seen out on the water throughout the week, especially when Eric decided to grace us with his presence. People of all ages and abilities were out on the water having a whale of a time on their boards and bettering their technique. There were windsurfers blasting left, right and centre and everyone thanked Eric for his blessing.

"When Eric showed up, we received a very good blowing. I think I improved in three hours as much as I have all year. It felt amazing to get blasting in both straps on their nice, shiny Goya boards. My aim was to get comfortable blasting in both straps and Eric got me there!! I can't thank him enough." - Laura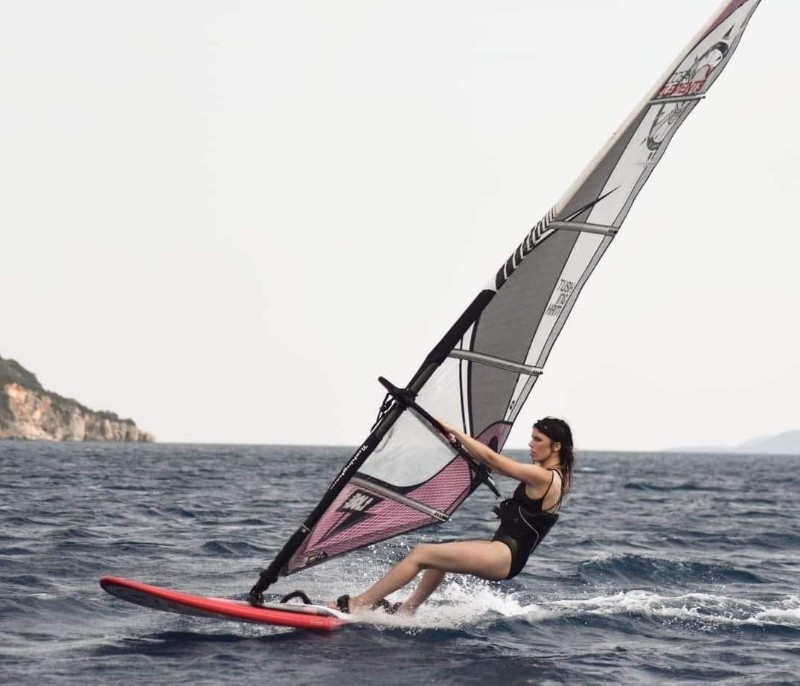 Advanced
The wonders on the water never ceased, even up until the last day. Despite the various finjuries (fin induced injuries) people had endured during the holiday, windsurfers rushed to the water for one last time as Eric came to give one big, last, windy goodbye. The gusts were strong and the planing speedy. During this final windsurfing session, Bristol's Matt Duffin managed to land his very first front loop!

"The main aim of the holiday for me was to land a forward loop. I had been practicing it last year in Vass but never managed it. With the wind being too light to attempt the move for most of the week I was getting more than a little twitchy. However, the last day delivered some nuking wind and within half an hour of the beach closing, I managed to land one (with witnesses). The ball's in your court now James [Arney, aka Arney #2]!" – Matt

Unfortunately no footage was captured of Matt's epic trick but we can confirm there were witnesses and it truly was a sight to behold!
Foiling
With light winds in the first half of the week, Ben Connor showed Greece how to foil with his very own kit he lugged all the way over from Leeds, much to the annoyance of the airport staff. Everyone out on the water loved Ben's foiling ability, especially the photographer.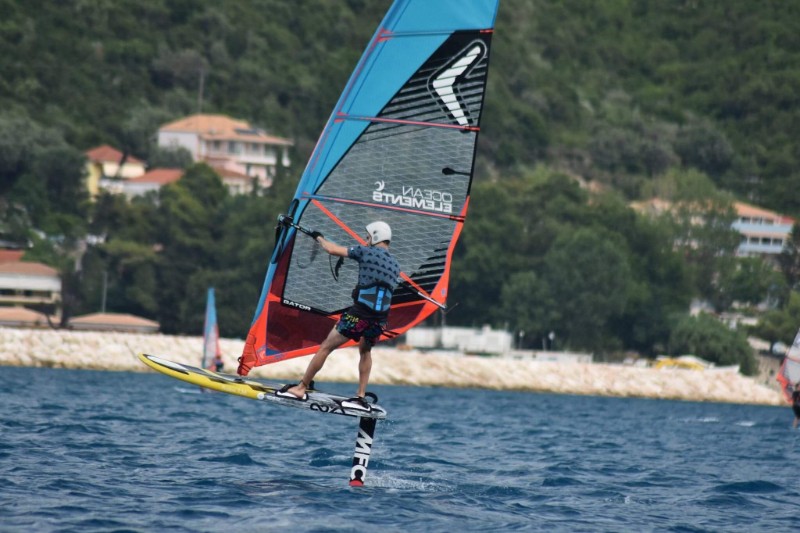 "You get exactly the same feeling foiling as planing for the first time, it's like snowboarding in deep powder. It's sick when everything goes really quiet because there is no board on the water so I'm like literally totally flying" – Basic bitch Ben
Taff
During the week, we were even graced with the unusual sight of Taffy Osborne windsurfing! Many of the group had never seen such a sight and believed it to be a myth that the legendary ex-Bristol President had ever taken to the water on a windsurf rig.

"I would like to counter the scandalous assertion that I have not windsurfed "for so long." It has been a while since I windsurfed a lot, but I have kept my eye in. I do after all run a windsurf centre. It WAS great however to get out in awesome conditions on great kit with loads of friends of different abilities. I had an incredible time. Windsurf, Lash, Friends, Banter, and Sunshine. What else is there?" – Taffy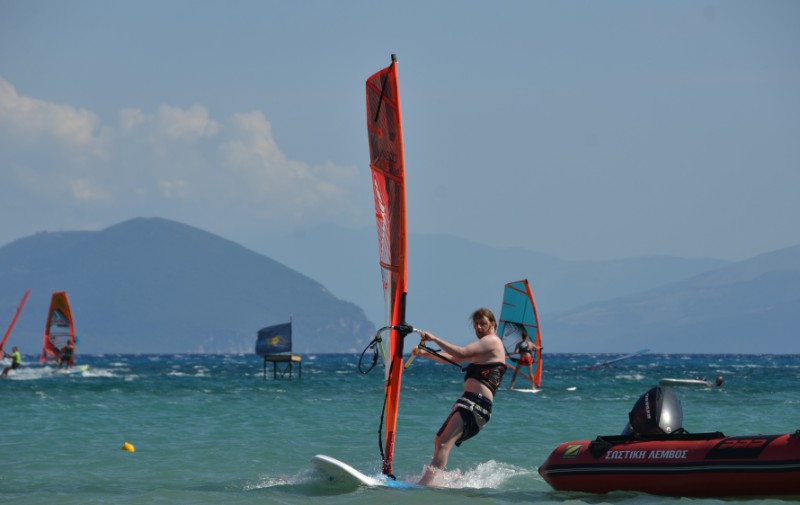 ---
 Other Activities
Sailing
As for the others waiting for Eric to show himself, there was still plenty of fun to be had taking out kayaks, sups and a variety of boats. There were groups of Liverpool and Bristol SUPping and kayaking to a pontoon not far from the beach where various games involving diving and bombing into the water were played and many a windsurfer got wet and wild. This gave us lots of chance to explore the gorgeous bay of Vasiliki, however some of the group went to the dark side and took up sailing!

"We had an amazing instructor, so we learnt both theory and practical. The practical part of sailing was really hands-on, we sailed both singularly and in pairs, as well as how to control the boat and what to do when the boat capsized. That was scary because the boat was huge!" - Karen (note: It was a Pico)

However, it hadn't all been plain sailing for the windsurfers when it came to boats…

"After the practice, we did capsize for real and I did the complete opposite to what I had learned and stood on the boat and screamed. I also pushed Sam down to save myself without thinking... Also, the best bit was to learn how to tie some knots so the 'boats' don't get away!"- Karen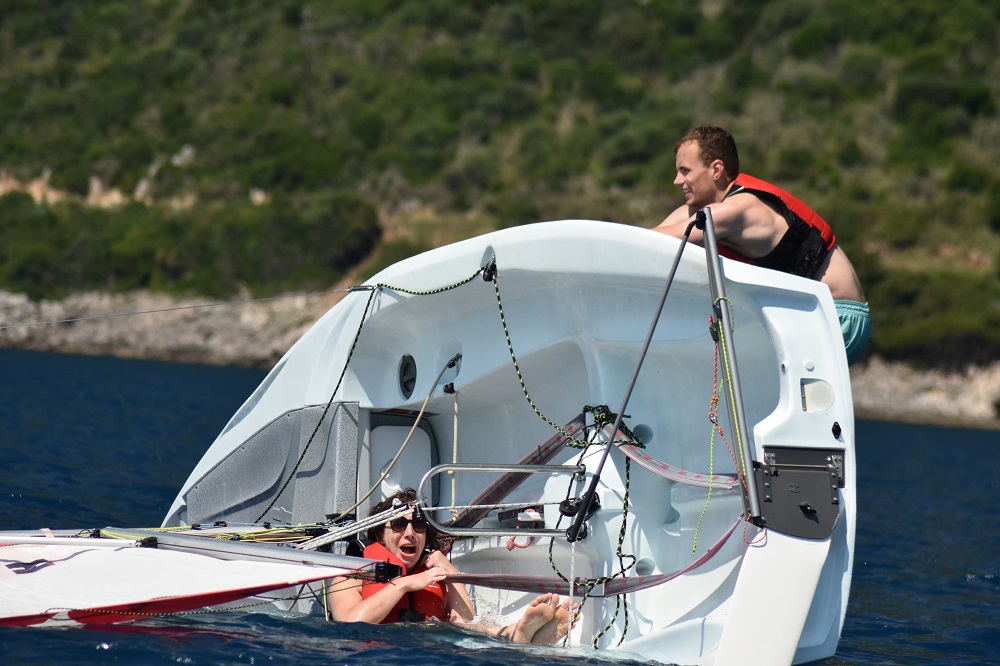 "When there was no wind, we had the genius idea to take a Cat out which resulted in us being towed back into the sailing area because we had drifted a fair distance." - Laura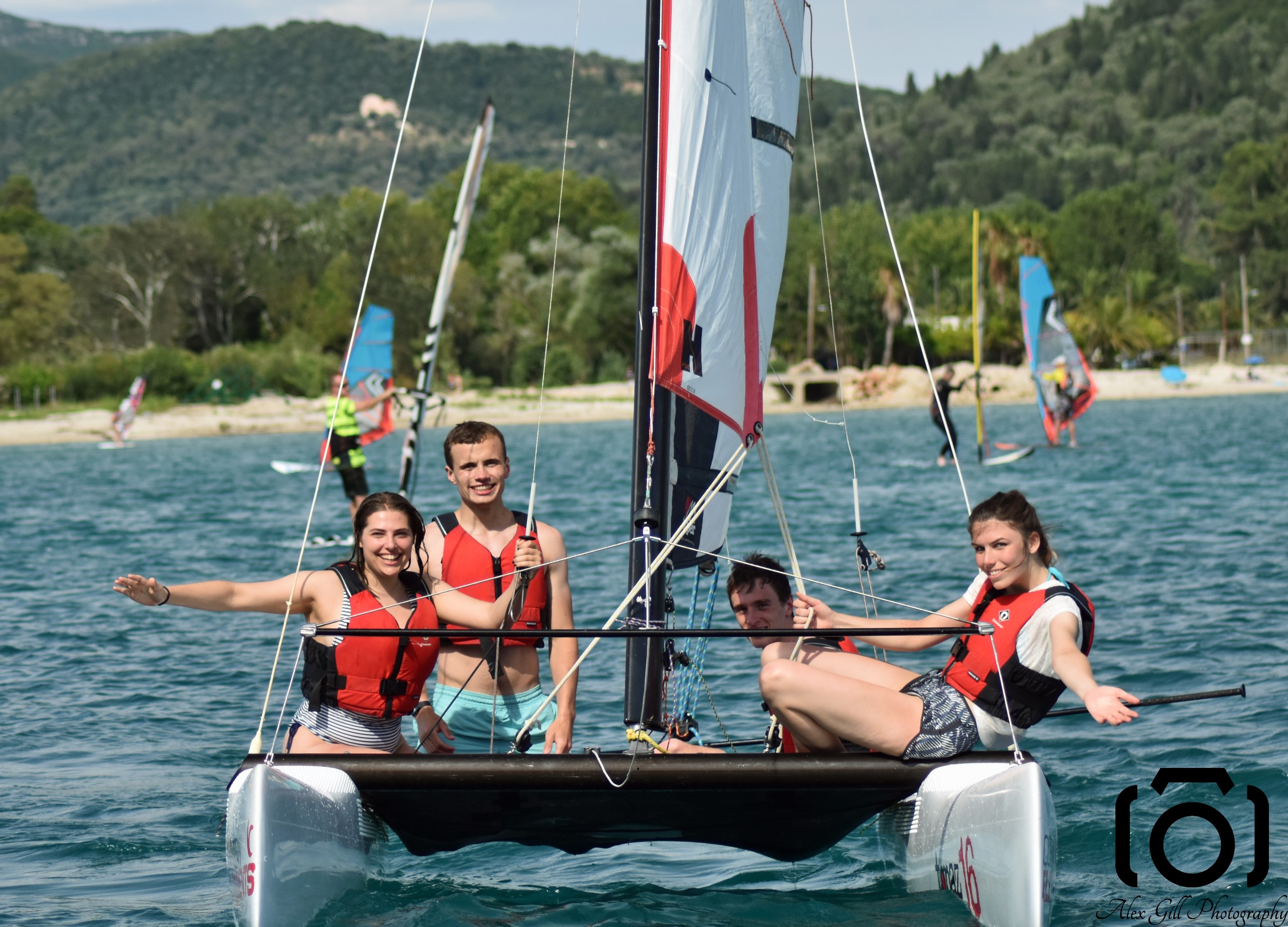 There were even some attempts at "sailing freestyle", with Scrappy and Arney cracking out their acrobatic skills whilst simultaneously helming a Bahia: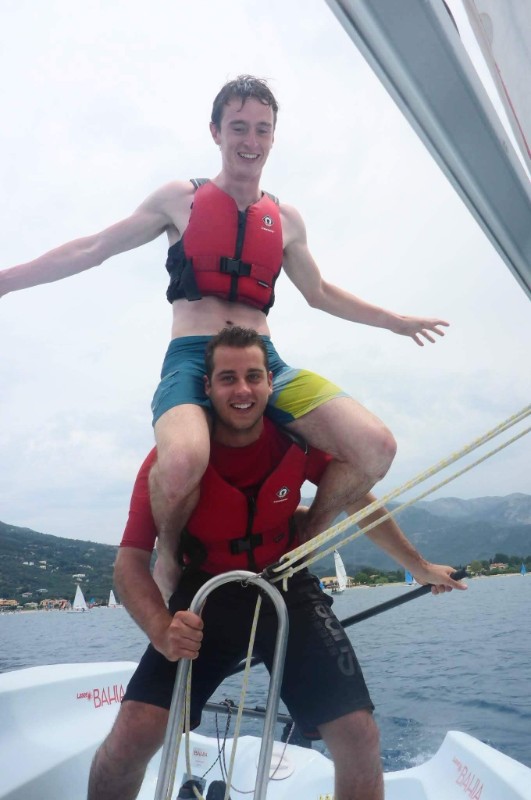 At the end of the day, nothing compares to rigging up your windsurf kit and blasting off into the distance in the gorgeous scenery that is Vasiliki, not even sailing.

"Windsurfing is still a million times better. I think with windsurfing you feel more at one with your kit, you can handle more wind and it looks cooler. I didn't do the racing as I am not great at sailing and I was hungover, if it was windsurfing I would have been all over it!" - Karen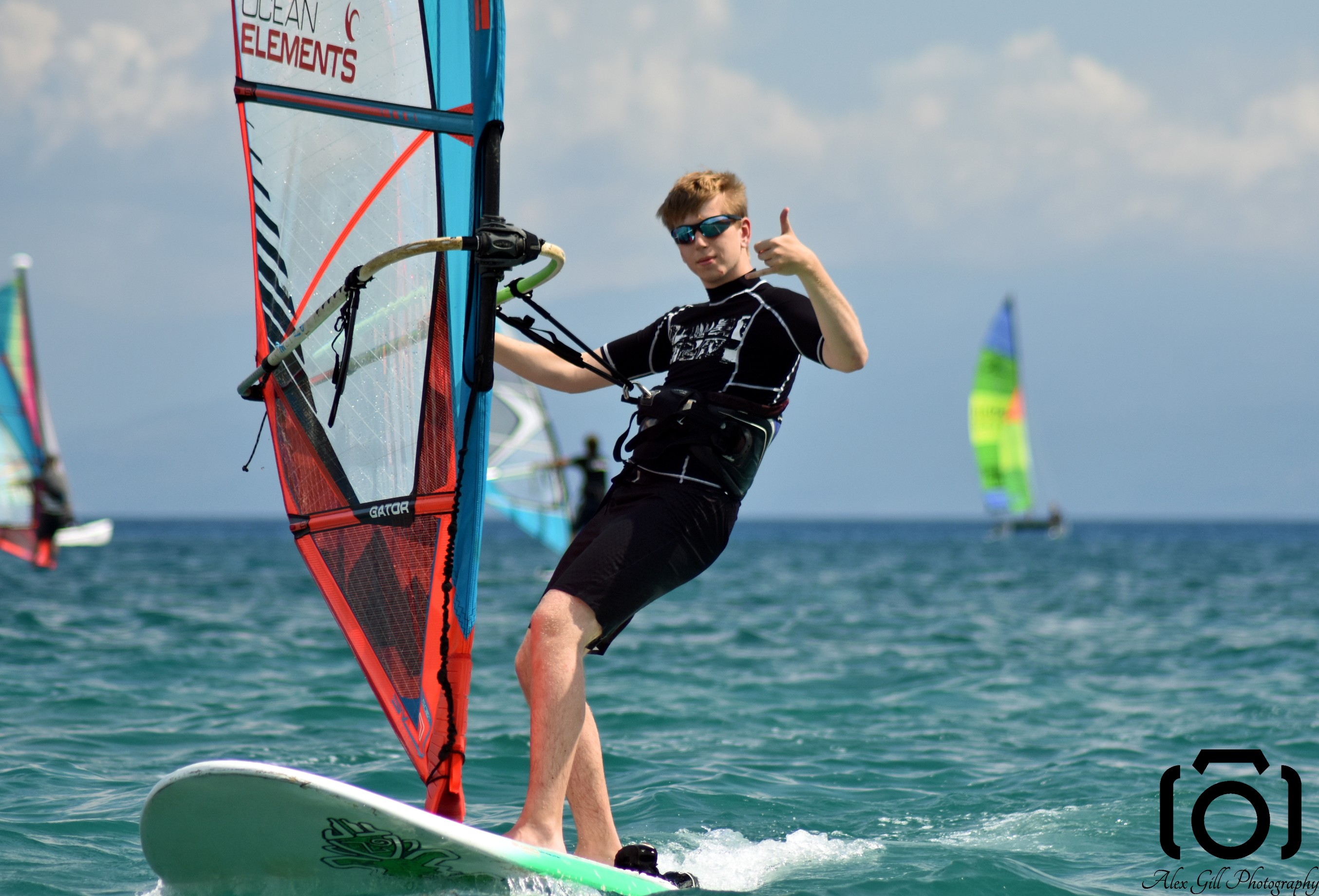 Pool Games
As much fun as it was out on the water, there were some intense pool-based games back on shore hosted by none other than SWA's Ollie (aka 'Scrappy'). Many unfortunate souls were dunked in seahorse waterpolo polo, pool bulldog, piggy in the middle and water basketball. The games started off with laughter but quickly turned into a serious competitive series.

"The first two days saw a mixture of water polo and a type of jousting upon each other's shoulders. I seem to remember myself and Scrappy coming out on top in that game; Scrappy proving himself a stable stallion, and I proving lankiness and foul play are fine replacements for skill. The third day offered another chance to saddle up Scrappy (which I snapped up) in a game of conventional polo but played with seahorses (people in the pool) rather than normal horses. This game soon picked up some of the rules from water polo, which were essentially picked and chosen to suit whoever shouted the loudest. And thus Seahorse-Water polo-Polo was born! The volunteering of Duce as an umpire and a team of others as third match officials straightened out some of the cheating, but special mention must go out again to Scrappy here as from my high viewpoint, it was clear there was still some drowning of the opposition subtly kept out of view." - James Arney

Seahorse-Water polo-Polo proved a very popular sport in the pool, with people vigorously throwing their riders across the pool in pursuit of the ball. Getting the ball in the inflatable rings proved a challenge but there were some who had become accustomed to the sport, taking like a duck to water.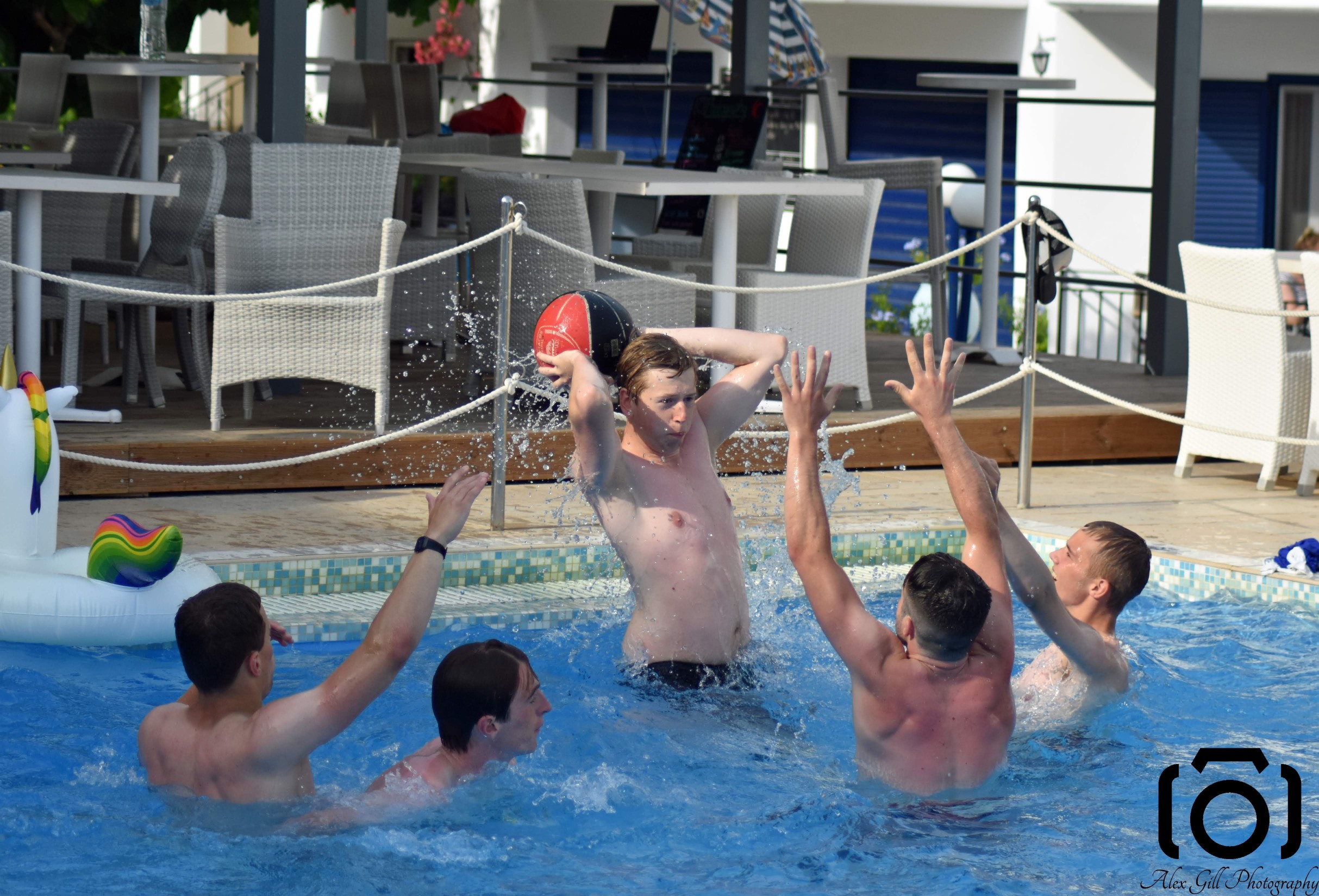 "Jodie and Laura offered serious opposition, making the game a close run thing. Jodie demonstrated a natural grace gliding through the water, presumably picked up in her years of experience playing Bruce from 'Finding Nemo'. Unfortunately, she couldn't quite match the aggression of Scrappy, the pacifist attitude of Bruce perhaps having rubbed off over the years. Jan of Liverpool should be presented with an award for flare, demonstrating a unique and highly gymnastic way of mounting his inflatable stead, though I think the rough handling left it feeling a little deflated at the end of the week… The scores were tight but in the end there was only one winner - Seahorse-Water polo-polo. I look forward to seeing it in the 2020 Olympics." - James
---
Nightlife
After the beach closed for the day, there was still plenty of fun to be had. We were spoilt with delicious Greek food within walking distance. Whether it was gyros, freshly caught fish or grilled vegetables, we never went hungry and got to dine with stunning views of hills and marinas before heading on into Vassiliki town to show the locals how windsurfers party!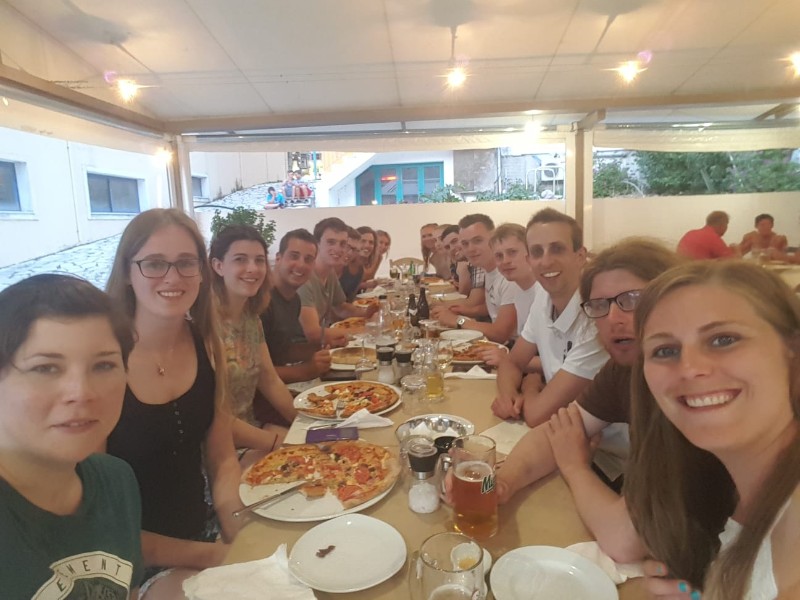 There were many great nights out in Vasiliki, the two big ones were Wildwind's live set on the Tuesday and Club Vass' Baywatch night on Friday. However, most nights windsurfers could be found on the beach dancing around a portable speaker like hippies, in Zeus bar dancing on the shelf and swinging off poles or skinny dipping and (allegedly) pulling pranks on the Ocean Elements staff - there were many hilarious stories that made that week.

Wildwind was the starting scene of Tuesday night, with an amazing live band that took us back to our early teenage years. Everyone was bopping and grooving to classic pop songs such as Teenage Dirtbag and Mr Brightside. It was difficult to keep a hold of your beer for all of the friendly moshing and headbanging! The set was encored a few times but once the band had ran out of songs, we all headed into town to Vass Bar and Zeus Bar to party on into the small hours. There was dancing of all kinds: on tables, off poles, swinging from the rafters. The SWA really showed the locals how to have a good time that night!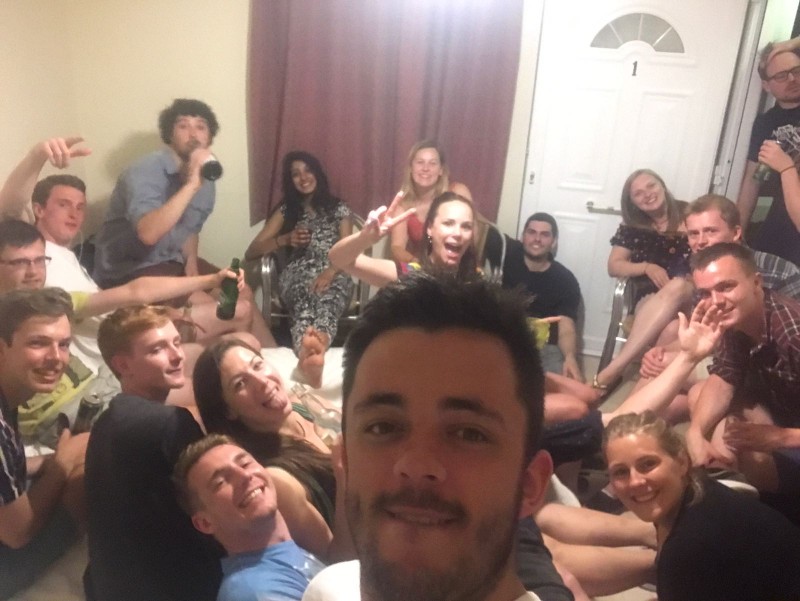 Club Vass pulled off an amazing Baywatch-themed night on the Friday which saw many red shorts and hawaiian shirts - and fully fitting in with the SWA's love of fancy dress. The restaurant inside turned into a popping club with loads of classic bangers and people dancing the night away. Outside, there was many a windsurfer gathered around the tiki-style outdoor bar. Despite being far from the music, people were still bopping and having a laugh with all the new friends they had made. We didn't want to stop dancing once the music had stopped, so it was into town once again to Vass Bar and Zeus Bar to boogie away all those gyros calories.

There was some stellar fancy dress throughout the week as well, on the first night we were joined by a group of Girl Scouts and Ryan as a Mexican. Not all the fancy dress was long-lived however, Ryan's poncho was one of many items that came flying off when the Baywatch theme came on in Vass Bar, to many people's delight.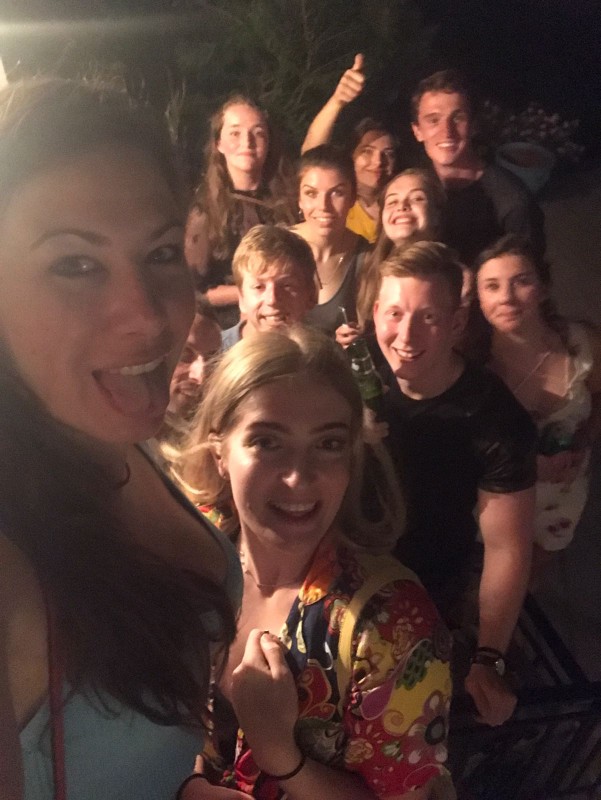 "Every night was the best! If you're on it every night, they all blend into one. Wildwind was great, the live music was a nice gentle warm-up for what eventually culminated in waking up in Vass Bar toilets at 4am! Club Vass on Friday was all a bit of a blur after the all you can drink punch at the BBQ. I think the photo evidence shows we all had a great night! Shameless self-promotion but I think mine and Kazza's nightly pole dancing displays were a highlight. Funniest thing? Cougar Karen. Say no more. It was great for Ouzo but terrible for sleeping. Zeus Bar was the most lively and always dangerous - drunk students and poles don't mix well." - Luke N.
---
Home time
It's clear that both on and off the water everyone had an awesome time and we proved that no matter what Eric (or Erica) throws at us, the SWA will have fun!

"I do think the holiday was a success and I want to thank James Arney, he lead most of the effort. My favourite part was all the wind at the end of the week, I loved planing off the beach on a 120L board and a 4m sail I borrowed off someone for one run. To those who missed out, don't miss out when we do it again next year! To those that were there, thanks for coming and thanks for a great time!" – Adam
With emotional goodbyes at the baggage carousel in Gatwick Airport, the week-long Odyssey was over. Eric had given us great wind (on most days) and Vassiliki had set the scene for a phenomenal holiday of windsurfing. Solid friendships were forged and so much fun was there to be had. Like Adam said – if you missed out on this trip, don't miss out next year!