Nationals 2017 date has been confirmed!
28th - 30th April 2017, to be held in Colwyn Bay, North Wales.
BUCS entry for the competition is already open, so don't forget to get your members signed up through your Athletics Union (or Student Union for some of you).
BUCS entries close a couple of weeks before the event, so don't leave it until the last minute.
Tickets for camping accommodation and party (not included in the BUCS entry fee) will need to be purchased separately by your members from the SWA website in due course.
Details will be out soon.
We look forward to seeing you for the biggest competition weekend of the year, and one final blowout before the summer! 
Debut London Event Exceeds Expectations
London took centre stage on the weekend of the 17th-19th February as over 130 windsurfers from universities across the UK descended on the capital to share in the thrill of Imperial College London's brand new student windsurfing event: Soggy Cockney. Despite light winds, the weekend was a rip roaring success and a huge celebration of sport with the city horizon scattered with windsurf sails bathing in the February sun. The Student Windsurfing Association (SWA) certainly made the most of the many activities held both on and off the water. Soggy Cockney was the last of the three SWA core events held this academic year in association with Sport Imperial and Queen Mary Reservoir. This huge inter-university collaboration attracted windsurfing clubs from every corner of the UK.  Imperial stormed onto the SWA circuit with a weekend that will not be forgotten and we hope it's the first of many more to come!
Through a special partnership with Queen Mary Reservoir Imperial pushed their weekend as platform for personal development and they delivered a crammed roster of classes to ensure all of the weekend's attendees had the opportunity to learn and improve.  Despite the calm water, the majority of those in attendance signed up for a class. Intermediates and advanced riders were unable to put their high speed skills into practice but some detailed simulator clinics gave the opportunity to absorb vital top tips to carry forward and meet others in a similar situation. It was also a fantastic weekend for those who had never tried the sport before to hop out onto the water and give it a go! Over 24 new beginners were given their first taste of the sport which is always a special moment, and considering that the UK in February is as 'nippy' as it gets, we owe all who joined the sport for the first time some high fives and hot chocolates! bbbrrrrrr.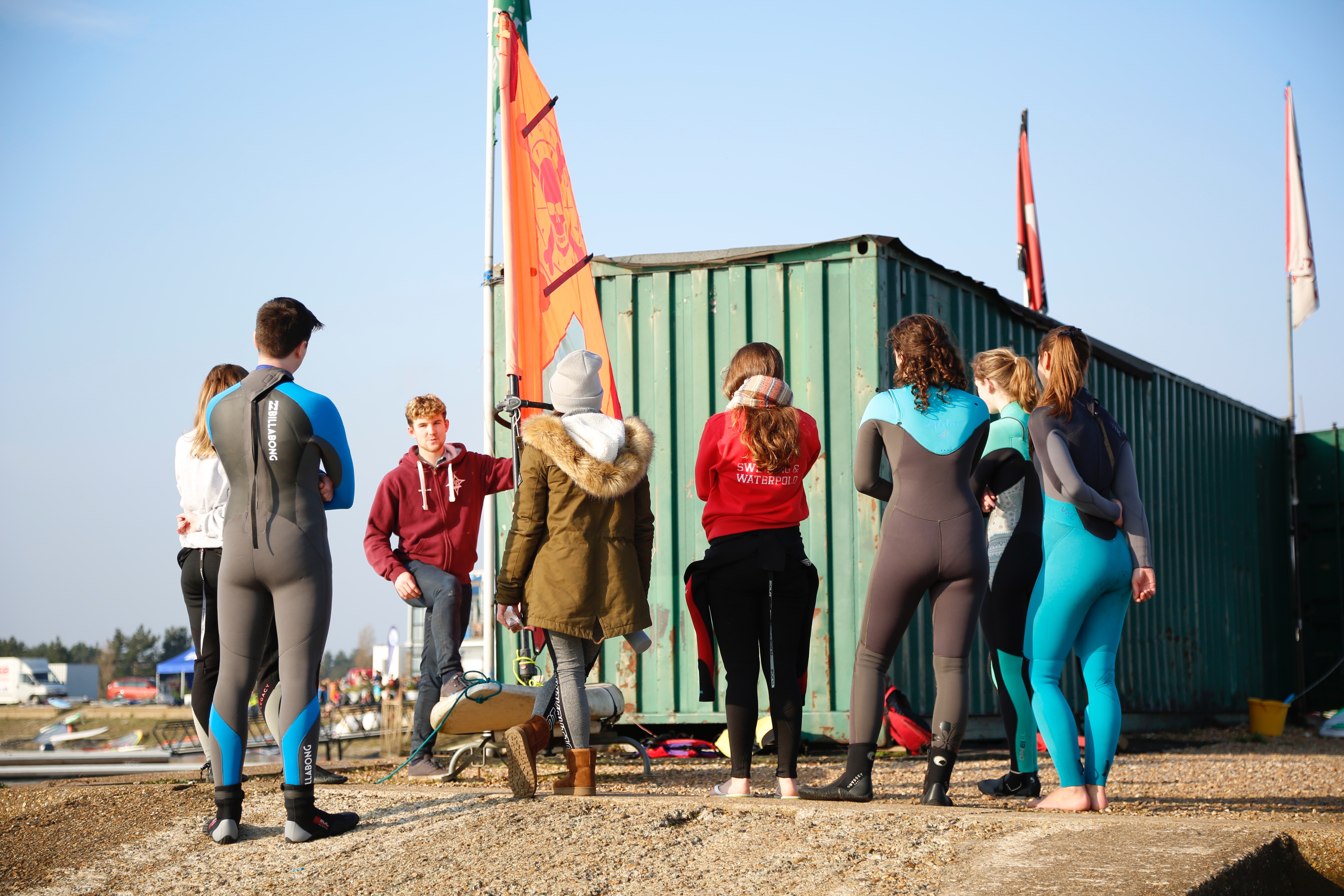 As is the case with a weather dependant event booked 6 months in advance not everything goes to plan. In the early afternoon the wind completely died, far from ideal for a mass of 130 thrusty windsurf addicts. Through the necessity of organised fun the impromptu 'Low Wind Olympics' were born, with 4 enthusiastic teams competing in synchronised dance, tug of war, and sprint. The conditions didn't dampen spirits for long as the splashing competitors on their buoyant SUPs showed just how fun windsurfers can be! Deploying a cunning rowing stroke to conquer the tug of war, "Super Future Pandas" stomped to victory just as the later afternoon wind arrived. A stunning sunset drew day one to a close.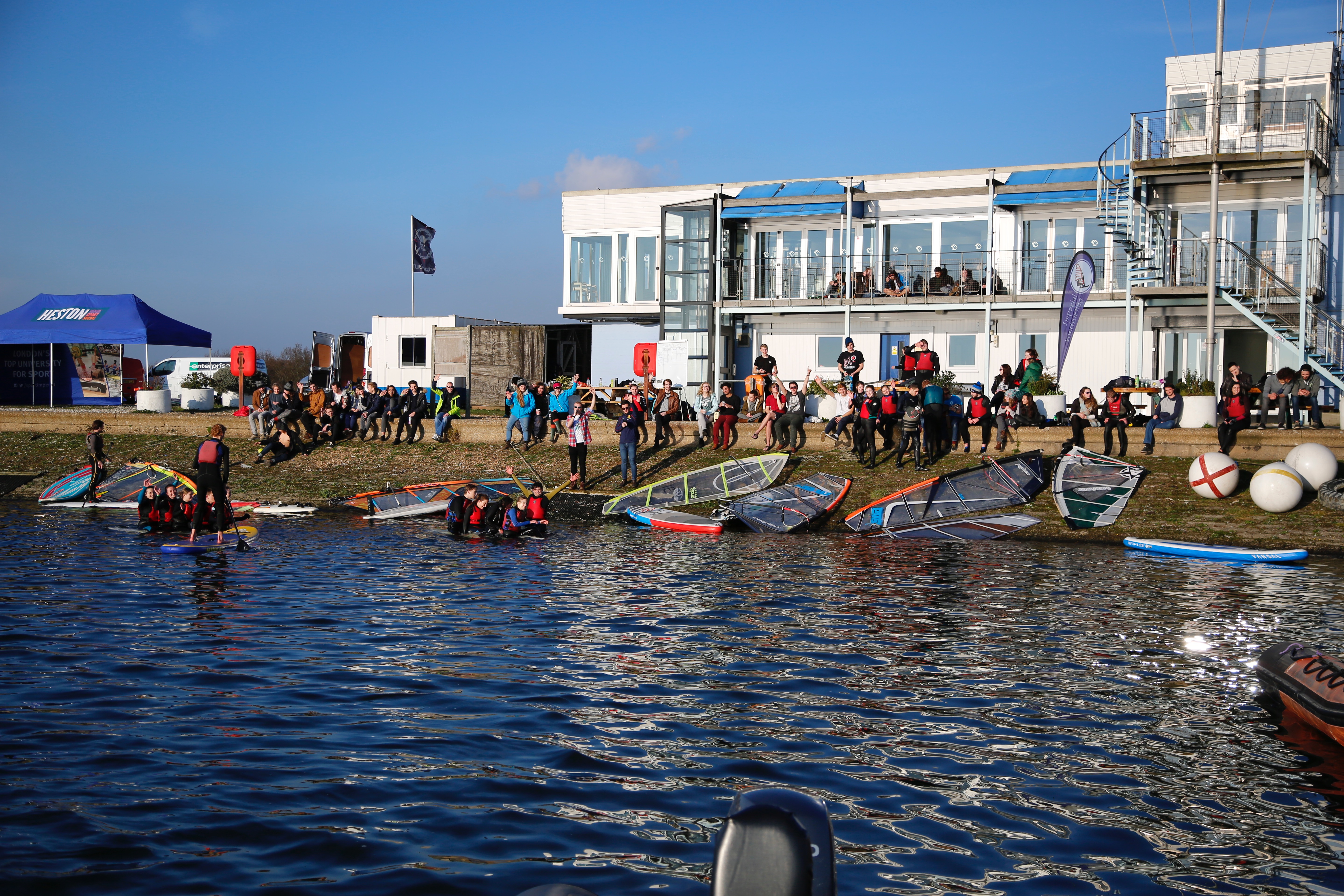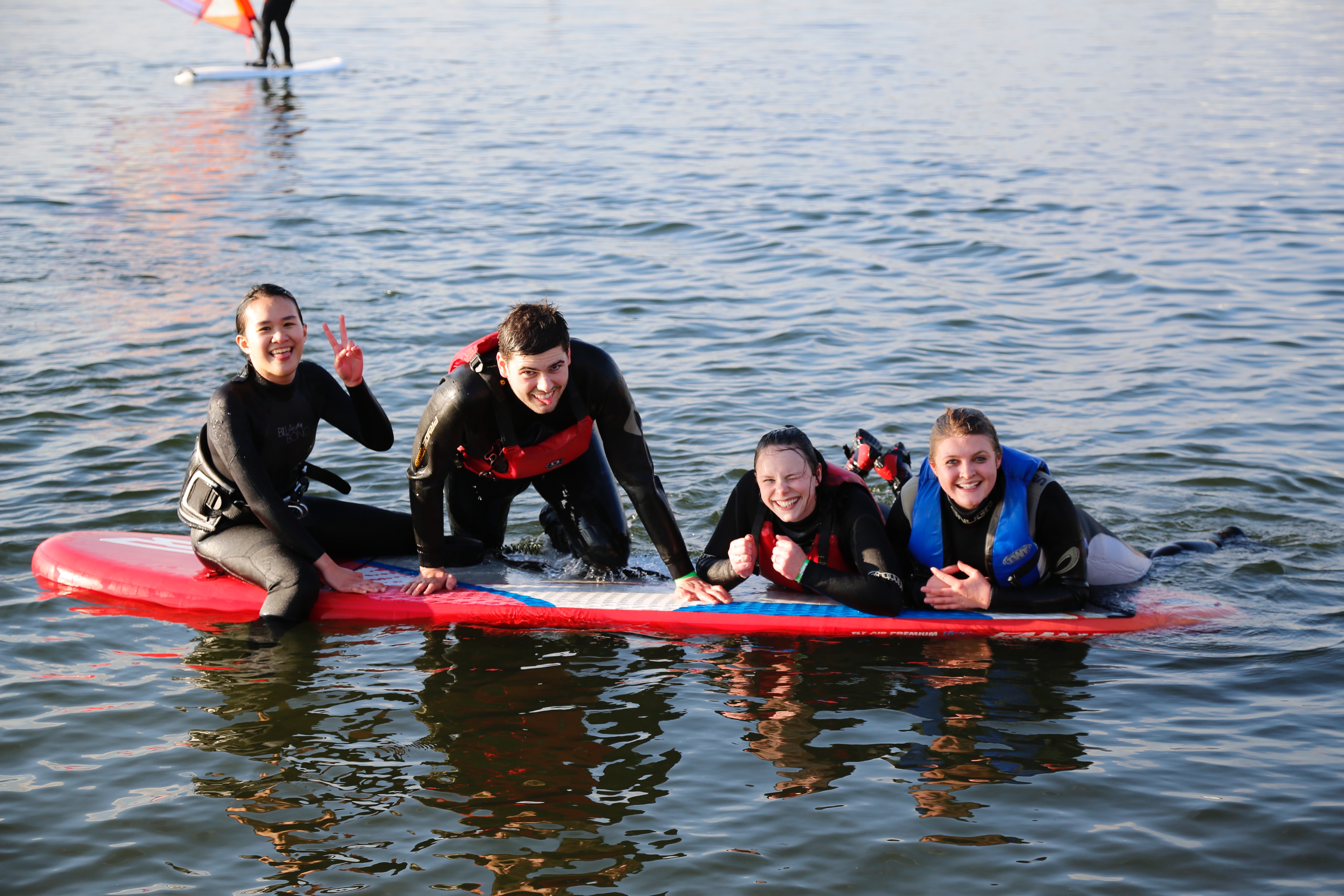 Dressed as a vibrant horde of "Cockney Rhyming Slang" the SWA descend upon central London for another epic Saturday party, their destination: Walkabout-on-Thames! Amongst the crowd were: Bees and Honey (Money) - Birmingham, Cows and Kisses (Misses) - Imperial, Wallace and Gromit (Vomit) - Bristol as well as many other hilarious combinations. The placed rocked with a Macerena mad, Cotten-Eyed crazed ball of windsurfing energy.
On Sunday the wind picked up a bit and set the back drop for the weekend's windsurfing competitions. In line the SWA series, a encompassing range of disciplines were represented giving the weekend participants the chance to get out on the water and participate in some friendly competition. First off was the Team race, with 15 different teams entering a tightly contested field of competitors. With some close heats the final came down to a very strong field with Swansea eventually taking the win followed closely by Birmingham, Southampton and then Imperial. The winners each received an exclusive soggy cockney limited edition T-shirt and a rather flashy trophy! Let's hope they don't lose it!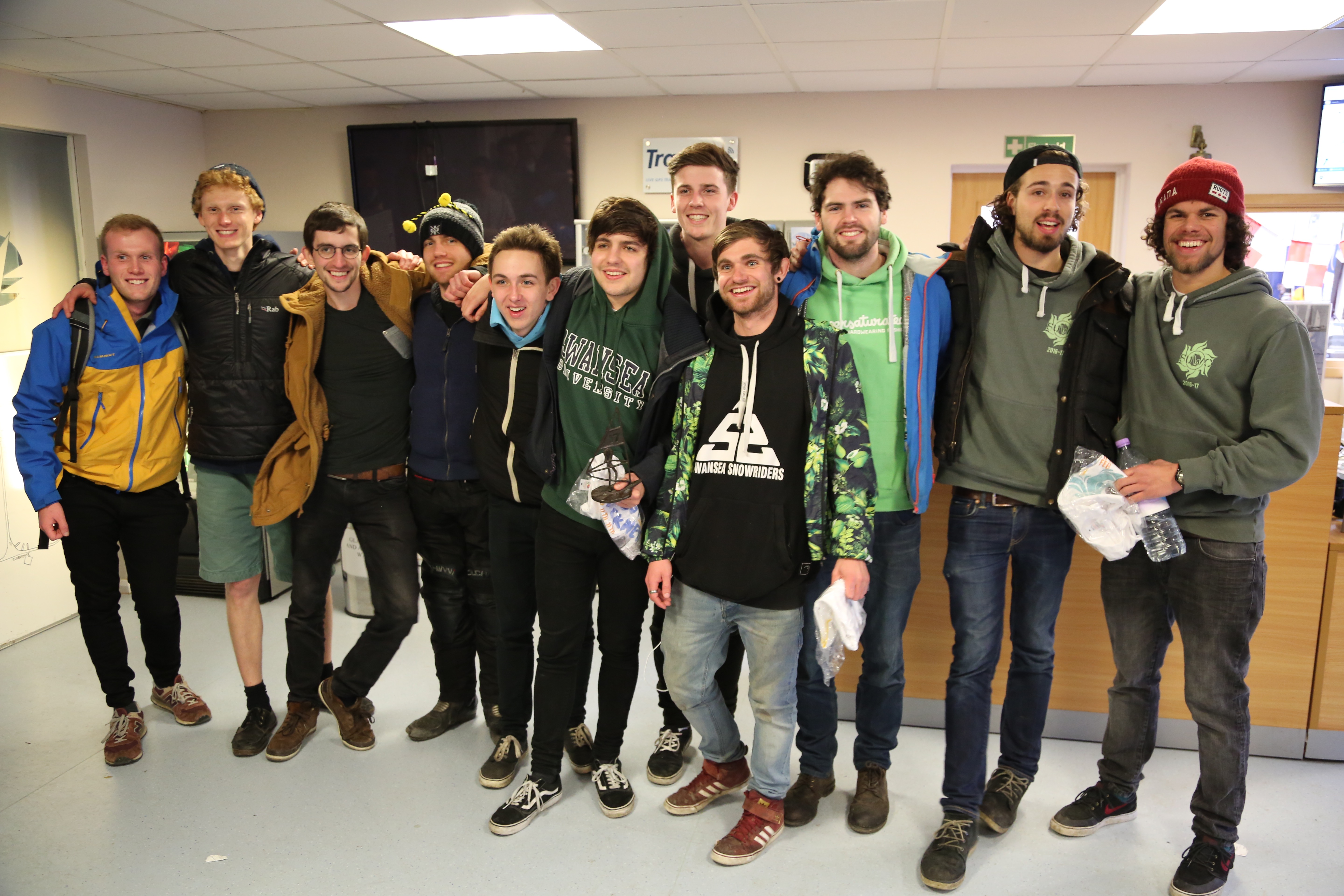 The advanced racing took place in a light spell of wind and came down to some nifty light wind pumping on the somewhat sinky 120L fleet. Thomas Sambrook (Birmingham) took the top spot followed by Ben Bulson (Bristol) and Ross Griffin (Birmingham) in a close 3rd.
The afternoon saw the Beginner, Intermediate and Freestyle competitions with a fantastic turn out for each and the usual SWA sportsmanship. Bringing home the intermediate fleet was: Natalia Orgonova (Birmingham), Giovanna Sidaou (Southampton) and Tom Upcraft (Imperial). An outstanding turn out was also seen for the beginner races finishing: 1st Katie Prestage (Birmingham), 2nd Klaudia Swistek (Bristol), 3rd Tom Kirk (Nottingham).
The weekend drew to a close with a gentle Sunday afternoon where the events attendees took to the water once more. It was a fantastic weekend whcih truly showcased all the London has to offer it's windsurfing inhabitants and student migrations alike. Imperial like to thank Sport Imperial and the Student Windsurfing Association for supporting them throughout the event preparation and making this incredible weekend possible.
The Puravida SWA Wave Series reached its climactic conclusion this weekend, in the storm whipped waters of South Wales. Students from far and wide converged on Cardiff to compete for a place on the overall podium, strutting their stuff both in the waves and in the bar.
You can read the full write up on the windsurf.co.uk site.
Series positions
| | |
| --- | --- |
| 1 | Louis Morris (Bristol/Severne/Starboard) |
| 2 | Sara Kellett (UWE/Severne/Starboard) |
| 3 | Reuben Lansley (Swansea) |
| 4 | George Norcott (Plymouth) |
| 5 | Tom Pidden (Nottingham/Simmer/Puravida) |
| 6 | Arthur Fox (Cardiff) |
| =7 | Ben Bulson (Bristol) |
| =7 | Shaun Ashmore (Manchester) |
| =12 | Alex Parker (Cardiff) |
| =12 | Natalia Orgonova (Birmingham) |
| =12 | Alex Page (Sheffield) |
| =12 | Laura Bulson (Sheffield) |
| =12 | Matt Duffin (Bristol) |
| =12 | Luke Leckie (Bristol) |
| =12 | Luis Coy (Sheffield) |
| =12 | Alice Lyons (Bristol) |
| =12 | Thomas Francis (Cardiff) |
To Teach, to Inspire, to Instruct. 
Throughout all of our windsurfing journeys, countless factors have changed as we continuously grow and develop. We see vast progression in: the equipment we use; the strength of wind we look for; the skills we practice and the confidence we posses. Despite all of the ongoing advances there is one very crucial constant, critical to unlocking our potential. Our support, our guidance, our instructor. Without their warm words of advice, lines of encouragement and relentless enthusiasm, none of us would be the windsurfers we are today. Those inspirational mentors who dedicate their efforts to showing us the ways of the windsurfing wizards are one of the key reasons we love our sport so dearly.
As we ourselves reach a certain level of windsurfing many exciting opportunities open up. None more exciting than the chance to pass on all that we have learnt to next wave of windsurfing talent. The decision to start teaching can be one of the most rewarding decisions you can ever make in windsurfing. So, what are you waiting for, it's your time to lead. Surprise yourself, instruct.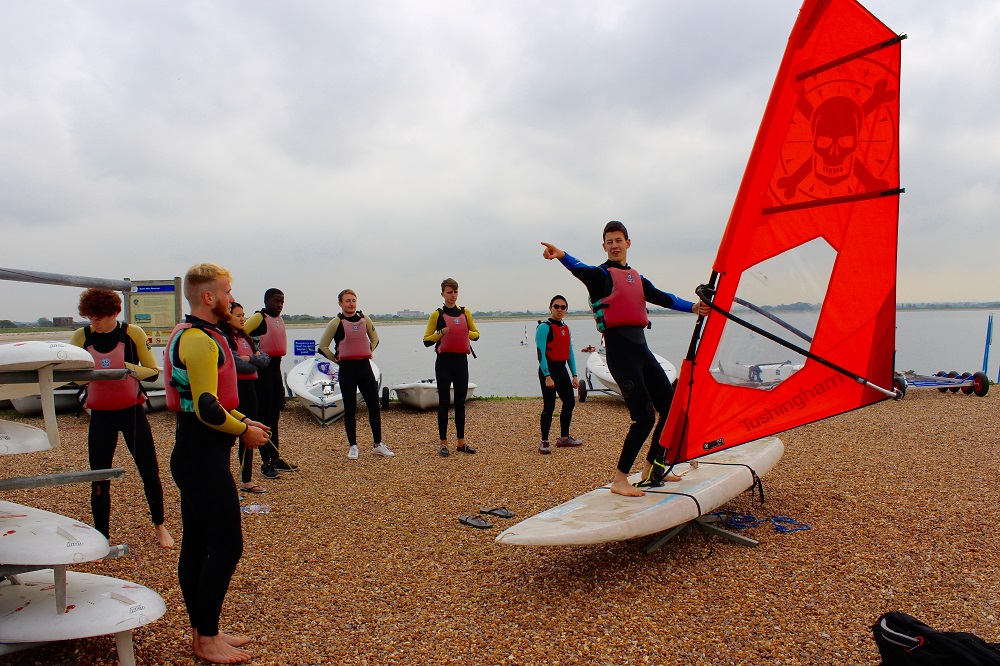 Recently the SWA caught up with one of its most experienced waterspouts instructors Taffy Osbourne. Taffy has been a lifelong instructor of both sailing and windsurfing. He has instructed and managed watersports centres in the UK and around the World, including Corsica, Egypt, Greece and France. Taffy currently runs his very own water sports centre in North Wales. Here is Taffy's take on what being an instructor offers you and how you can get onto a course. 
 Taffy Talks Teaching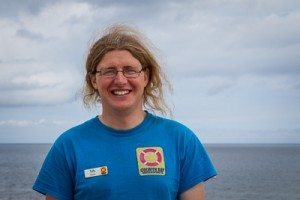 What's great about being a windsurfing instructor? What's great about being a student and a windsurfing instructor? Where do I start. The question reads to me like "justify all your life choices for the last ten years," because being an instructor is so awesome that it's effected literally everything that I've done since.
OK, for starters – you will be the coolest kid on the block. Short of being an astronaut, racing car driver, or jet fighter pilot, you have the most awesome job of all. Hanging out on the beach, helping people have fun is epic fun, and everyone knows it. I've taught my fair share of accountants, engineers, layers, policemen, scientists etc. to windsurf and what they all have in common other than enjoying themselves is on some level, they are jealous of you – you get to do THIS and get PAID for it?!
What about skills? Doing your instructor training teaches you the nuts and bolts of running an instructor course, but the learning really gets going once you are in the job. With the RYA's model of having a senior instructor supervising all activity, it means someone is always there to make sure that you are constantly improving. The best thing is that a huge amount of this is transferable. When I was a student, I found that some of the things I was asked to do were a real challenge for my course mates. Working in a team and presenting information in particular were difficult for many, which were second nature for me with my background in instruction. 
Seasons? Oh yes. So the windsurfing training industry has a problem. The demand for their product is absolutely enormous for about six weeks of the year, moderate for a while either side of that, and non-existent in the winter. Luckily, they have an answer to this – the student instructor. Whilst at university, on most courses you have an absolutely enormous and awesome summer break. This means if you are a qualified start instructor you are very in demand for the peak season in the Mediterranean. Get flown to a hot country, to work on a beach all day and party all night? Sounds pretty good. It IS pretty good. It is definitely hard work both physically and mentally, and not for everyone. Also the partying is offset by the lack of pay and the need to be ready and on time for work with no visible signs of last night showing every day. I think when work is that much fun, and I get to hang out all day with a team of instructors just like me it's more than worth it.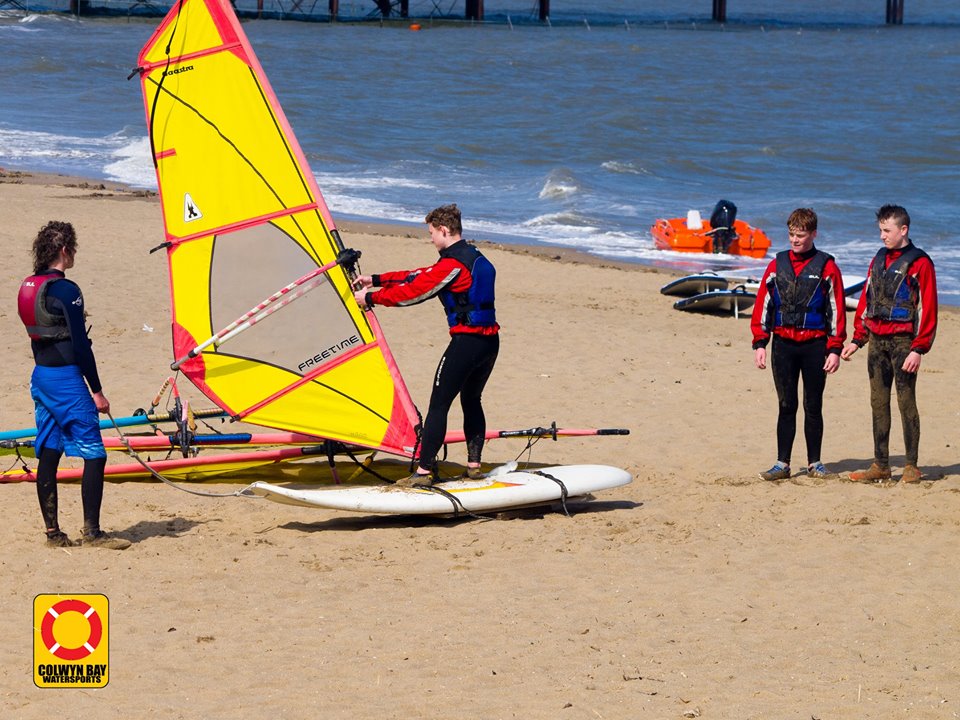 Do you actually need money over the summer? Do the same season but at your local RYA centre in the UK. The UK has convenient laws about minimum wage and you aren't having pay deducted for accommodation and food etc. Teaching in the UK can be more of a challenge due to much more variable conditions and the need to teach in miserable weather from time to time, but it's still great fun (I work full time in the UK now) and you have a lot more in your bank at the end of the season.
Back at university after the summer, it is hugely rewarding giving back to your windsurfing club. You've got the skills to make the club that you've come to love a really attractive thing for a new intake of beginners. Helping others have all the fun you've had learning to windsurf and learning to be an instructor keeps it all going round and means the student windsurfing experience is going to available for generations more students to come. 
If this all sounds great or you'd already worked all the above out on your own, speak to your club president about getting your instructor ticket through the SWA courses run at Colwyn Bay Watersports in April and July, or contact the centre direct. We look forward to welcoming you to the family of windsurfing instructors!
Booking for courses 2017 have opened,
Courses can be found here:  http://colwynbaywatersports.co.uk/instructor-courses/ 
Taffy Osbourne:  taffy@colwynbaywatersports.co.uk