This year's SWA holiday took us to the small town of Viganj, Croatia, with outrageously perfect sun, astounding amounts of kit and the comfiest hammocks ever experienced. A massive thank you to James Arney for organising by far the best week of the year.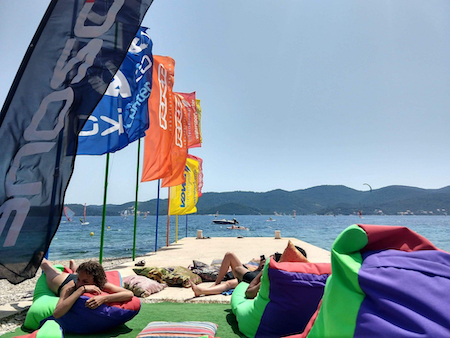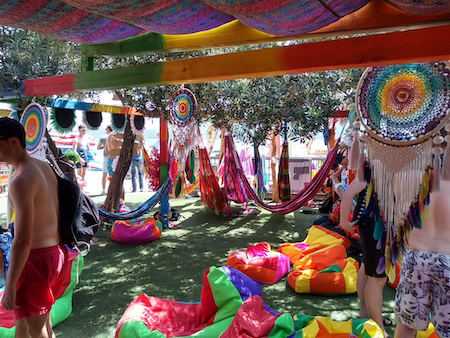 Arriving at the centre, an eager whisper of "there's free welcome drinks" spread through the group like wildfire. As it turned out, this meant a 19 year old local called Fire with a table of gin and a maniacal grin. After a few rounds of "mild" 50/50 gin and tonics, the tonic was discarded and everyone's new best friend Fire started pouring directly into mouths. It is said that if you put enough drunk students near the sea, they will become strongly hydrophilic, and we were no exception. The entire group was diving in and splashing about with a sense of joy and excitement not seen since the days of kid's summer camps. House keys were then distributed and luggage dumped, before gathering at a restaurant where admittedly a member of Brum consumed and then expelled his meal (clearly couldn't handle his gin). Still better than an unnamed windsurfer who dumped her bags and immediately passed out on the sofa, not to be seen until the next day. The rest headed on to K2, a bar at which we very very enthusiastic customers all week. The night can be aptly summarised by the moment someone fell over into the live musician, causing him to stop playing, but the party was continued by SWA group beatboxing for an uncomfortable length of time.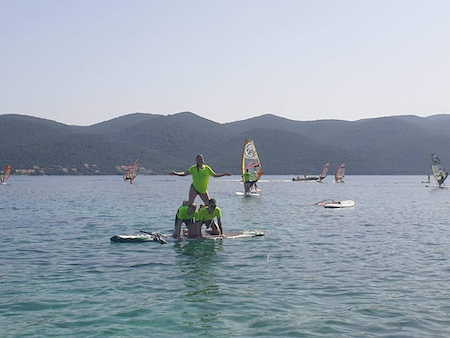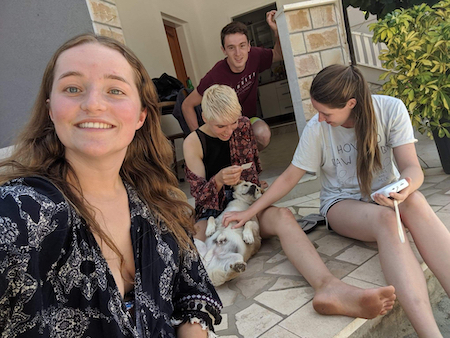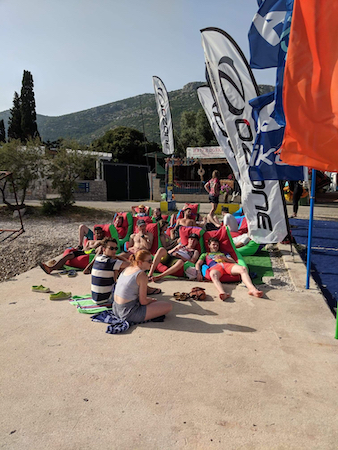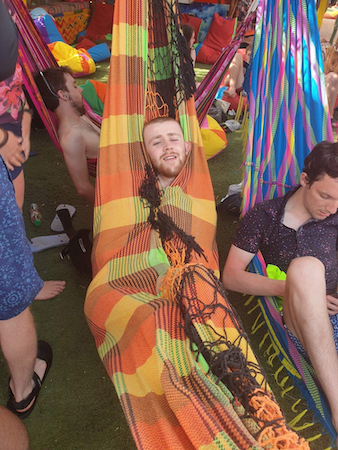 Sunday gave us beautifully consistent and strong winds, so everyone jumped on the shiny new kit as soon as possible and got straight to planing across the idyllic channel, with such consistent conditions that you could easily get to the next island without any real worry of losing power and being stuck at sea. Then began our first lessons with our instructors for the week, which for many made a massive difference straight away; they truly knew their stuff. An unknown luxury back in our UK clubs: the beach boys brought us our kit and put it away, so we could go out whenever we wanted to with no worry of faffing about with rigging or even carrying kit - the dream!
\After a full day of windsurfing we were ready to party, with Brum pioneering drinking games with a wonderful view from the balcony. Heading down to the beach with a couple speakers, a beach party was quickly established. We suspect the bar from the night was relieved - apparently public nudity isn't appreciated by Croats… Who knew?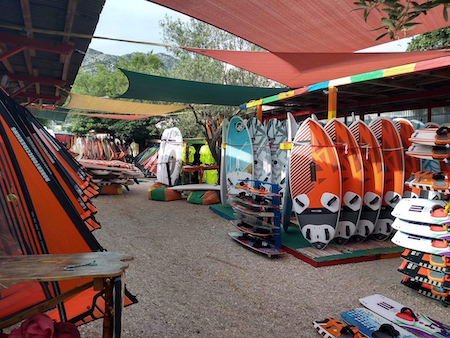 The rest of the week was much the same, with a good 4 days of proper wind and everybody making exciting progress. The nights out got increasingly messy, until a peak with Ronan's birthday BBQ. Everybody chipped in some cash and we scrounged every table chair and plate together to enjoy an absolute feast. Spare money however, was invested into what was referred to as "Agent Orange" which was just as deadly as it's Geneva-convention-banned counterpart. That being said, it resulted in a very jolly group of windsurfers having antics all around town. We decided we were in need of a quiet evening the next day to allow ourselves to recuperate.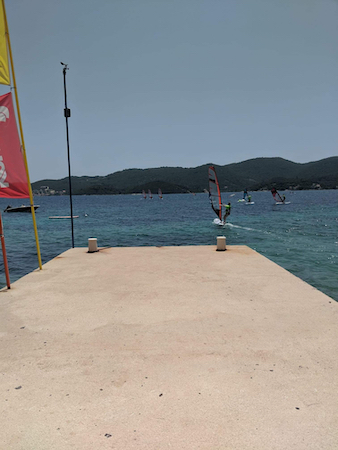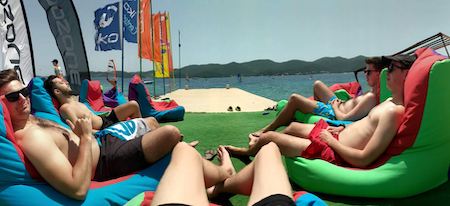 Thursday saw our final time together as a full entourage. What started as a couple people on SUPs turned into a mass of about 15 boards with at least 30 of us on them, all rafted up into a cacophony of floating shapes. This quickly descended into games of tag, cat 'n' mouse, and even a particularly competitive round of duck duck goose, resulting in a fierce scramble between the UoB's (Birmingham and Bristol), with Elise from Brum scraping a narrow victory over James. After the games were over we spread the raft in a giant circle and took turns attempting to show off our most ridiculous SUPnastics and find out who was the gladiatorial champion of the SWA - sadly there was no clear victor. To finish off a perfect day, we all flopped onto beanbags and enjoyed a wholesome singalong with some acoustic tunes from everybody's favourite instructor Vikki. The evening that followed started with some free drinks in K2 courtesy of Water Donkey, and ended with some of our usual antics out on the pier, then final goodbyes to the close friends we'd all made on the way.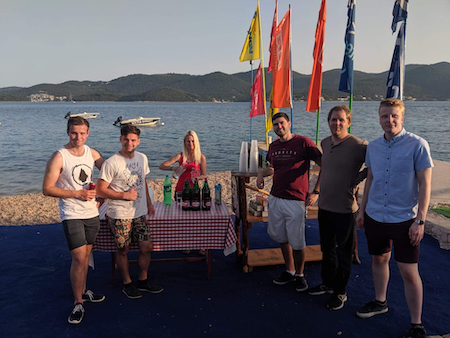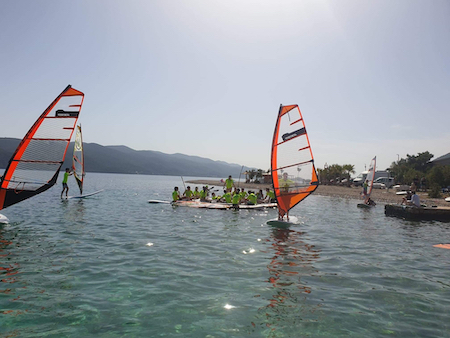 Friday was a day of fantastic wind, just what we wanted to see off an incredible weekend. It allowed us to finalise all of the progress we had made in the week, with some people going from just-about planing, to both footstraps on the last day! We then ended the week with a group trip to the nearby island of Korcula for dinner and drinks. It was relatively calm, although some Bristol girls made a real good attempt at missing the boat home for the sake of their new love: their waiter. We then had a group singalong on the boat ride home with some classic ballads, finishing with a tear-jerking rendition of Angels as we pulled into the harbour. Obviously this wasn't enough for us so we ended up at K2 for a final sesh. Most made it to bed eventually, but for one windsurfer the lawn was apparently good enough. Needless to say, it made for a rather long, horrible journey home across to Dubrovnik, and then an even longer wait for delayed flights. We finally conceded that the holiday was over at midnight on Saturday when we finally boarded the plane home.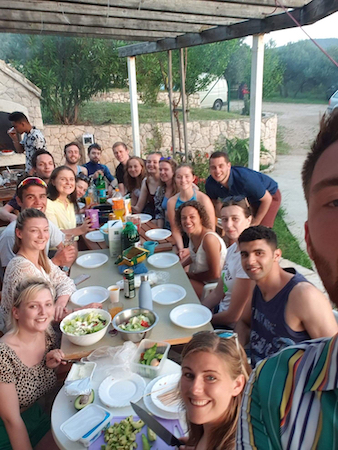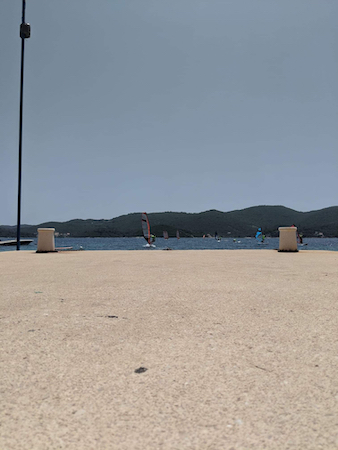 Again, a massive thank you to James Arney for arranging such a fantastic week, Water Donkey centre for giving us such a great deal, and the people of Viganj for putting up with us all week! I'm sure everyone who went will agree that it's been an incredible time, and that many friendships were forged. Looking forward to seeing everyone again at AK18!