BUSA Nationals 2004 PHOTOS NOW ONLINE!! What an event! With winds reaching up force 7 an intense slalom battle ensued at one of the South coasts most popular locations, Calshot near Southampton.
With reports of winds reaching gale force most people were happy to leave their longboards at home and opted for the smallest kit available. Well I say most people this doesn't obviously include Adam Pepalasis of Cambridge University who decided to take out his IMCO with accompanying 7.5m2 rig while everyone else was on 4.0m2 sails. After a superhuman effort in the first two races finishing in the top three the sail just couldn't take it and split from the luff to the leach and he was forced to sail normal kit like everyone else.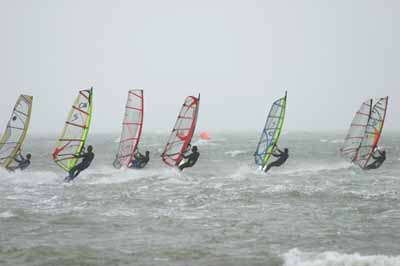 Division 1 racing on Saturday
The top fleet started with about 40 sailors which was quickly reduced to about 20 after the first couple of races due to the ballastic winds. Race director Dave Thomson set some particularly challenging upwind (very easy) and downwind (s**t yourself scary) courses in the morning which sorted the men from the boys before moving on to some spectacular slalom races which drew large crowds on the beach in the afternoon. The stand out performances came from Ollie Woodcock from Bournemouth Uni taking first place, Adam Pepalasis from Cambridge Uni, who as mentioned held down a 7.5m2 sail on an IMCO in a force 8. Adam Cropper from Southampton, usually a stranger to racing revelled in the conditions and picked up 3rd place despite giving up the lead in one race to do a forward loop just meters from the finish line. The unique finishing system of running up the beach favoured those with little or no regard for their kit as was seen when Southampton's liability No.1 Keith actually sailed his kit up the beach.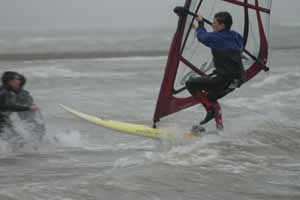 Adam (Cambridge) on slightly more sensible kit
In the Division two fleet the best sailor in the morning managed to get halfway to the first buoy before a rescue operation was conducted by Laurie Barber and his boat crews, who incidently had a busy time and much credit must be given for all of their efforts throughout the weekend.
In the afternoon Dave Thomson decided that some racing in the lagoon would be better for the Div 2 sailors and the standout sailors from that fleet were Mike Wood of Southampton Uni. Bethan Owen (AKA Super Bethan) also put in a memorable performance.
The Div 3 sailors did well to even get on the water and credit has to be given to all of them for their game attempts.
As usual the party was held on the boat and the fancy dress this year was exceptional as usual. We had spacemen budists teenage mutant ninja turtles. As for what happened that night I can't really remember but hopefully the photos can give you an idea as to what happened.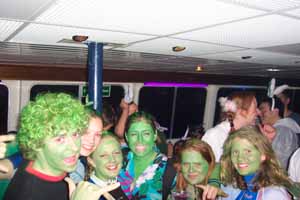 Cardiff- Green people??
With the usuall game of who's sleeping in who's bed and trying to work out who the person sleeping next you is Sunday started off in a similar fashion to most event Sundays.
The early morning briefing seemed a bit too early to be honest but Dave Thomson set about informing us about the team racing which was due to take place. This is where you use the Bic Techno 283 and Lodey 7.5m2 rigs and a team of 4 completes one lap each of a slalom course before handing over to the next team member. This all proved very exiting and the overall winners of the two races were Southampton University's 2nd team!!
This was probably the most anticipated event of the day as by this point most people had woken up and finally got over their hangovers. The question was could Adam Cropper hold on to his undefeated crown or was his comment the previous day " Do you know what guys? I really like slalom racing!" going to jilt his performance. The competiton was fierce and it seemed like Vulcans were the move of the day.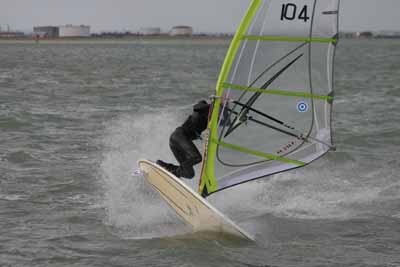 Sunday Freestyle
Adam, Martin Latham also from soton Sam Ross from Exeter and Nick Moffatt from Nottingham all made it to the final. The final was a tense affair but Cropper nailed it when seconds from the final hooter he pulled off a clean Vulcan right in front of the Judges, James from Solent Sailboards and Phil Cutter, to seal the victory. In second place was Sam and Martin claimed third.
It was a great weekend and many thanks need to go to Pete Boustred; Southampton President, Laurie barber and John Rabbetts from Southampton Uni and the staff at Calshot for once again putting up with us.
Many thanks also to the sponsors for donating many excellent prizes.